In short, yes! Inbound marketing can be effective for any type of business – leveraging valuable content and experiences to attract customers. Unlike outbound marketing which interrupts an audience with content they don't always want, inbound marketing forms the connections your audience is looking for and helps solve their problems.
What is Inbound Marketing
Inbound marketing is a strategic approach to building customer relationships by creating and utilizing content that aligns with their needs. With inbound marketing, you can promote your business during any stage of the buyer journey without interrupting your customers' lives. How is this achieved? By providing the solutions that your target audience is looking for.
Valuable content in areas like your blog, social media, SEO, or email, allows you to attract prospects in the right place at the right time. Inbound marketing can be applied in three ways:
Attract: Creating and publishing frequent content to engage prospects and address their needs, problems, and wants.
Engage: Facilitate quality relationships with potential customers by talking to them about their pain points and offering your insight and solutions.
Delight: Prioritizing retention and actively working to ensure current customers are satisfied with the solutions and services offered.
Forget the idea of a customer funnel — inbound marketing provides a power shift in the way sales happen today through the flywheel.
Explaining the Flywheel
The Flywheel puts customers at the center of your marketing efforts. It introduces the idea that customers should be the momentum that drives your business forward.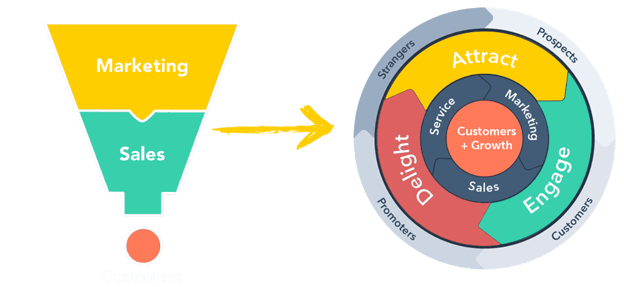 Flywheel Marketing versus the Sales Funnel
The sales funnel is a common and practical approach companies rely on to scale their marketing and sales processes. The Flywheel, however, puts customer experience at the center. So, why is it important to consider the contemporary approach?
While both approaches move consumers from prospect to customer, the procedure differs pretty significantly.
The sales funnel focuses on moving people down the funnel through different buyer stages. This often means dealing with different members of your team depending on their buyer stage — going from speaking to a customer service representative in one state to talking to a sales representative in another.
A typical sales funnel includes four stages, from top to bottom:
Awareness
Interest
Consideration
Action
The system proves problematic because the path to the bottom of the funnel is not linear. Many consumers will often pivot between stages before making a decision. Oftentimes, the sales funnel also forgets to consider loyal customers. This typically means marketing efforts stop or are severely limited once a prospect becomes a customer.
That's where the flywheel rises to the occasion.
With the flywheel approach, there is never an end to the customer journey. Your customers will remain the center of every effort, no matter their lifecycle stage. Momentum is created by investing in strategies that both acquire and retain customers. Once your business engages and delights enough customers, they will keep your flywheel spinning by promoting your solutions and bringing in new customers. Essentially promoting a continuous growth cycle.
As a HubSpot Diamond Solutions Partner, we believe wholeheartedly in the inbound methodology. The idea that great content and putting your customers at the center of everything you do has helped our clients win over and over again.
Four Popular Ways to Utilize Inbound Marketing
Search Engine Optimization (SEO)
SEO is the practice of optimizing your website content in a way that helps visitors find answers to their questions through search engine results pages (SERPs). Optimizing your web page content increases the likelihood of your page reaching a higher position on search engines like Google.
Digital Advertising
Digital advertising is the practice of promoting your solution by paying for clicks to your website. This can help you achieve a variety of business goals by ensuring you show up when someone is searching for you, shows interest in what you do, or fits your ideal customer profile. People make decisions about the goods and services they buy at all times of the day, and digital ads allow you to be there when they do.
Creating Content
Content is the foundation of any inbound marketing strategy and can come in many forms. Creating valuable content positions you as an authority in your space, shows empathy for your target's pain points, brings in search engine leads, and helps your customers achieve their goals. Popular forms of content often include website copy, blog posts, case studies, infographics, and so much more. The content you create should be educational and useful for your target personas.
Website Optimization
A seamless website experience can make or break a customer's decision to take action. If your website takes too long to load, shares a different message than the user was expecting, focuses only on selling and not on educating, or doesn't give a clear path that the user should take, you're going to lose that prospect. Optimizing your website is one of the most important things you can do for your organization.
Inbound marketing is all about building relationships with your customers. There's no magic, one-size-fits-all formula to inbound marketing. If you want to see success, it's important to invest in your team, training, and the right tools. Inbound marketing is a long-term solution to a fuller pipeline, a more qualified pipeline, and more customers at a lower customer acquisition cost.