A nationwide trash compaction company benefited from the customization of their HubSpot portal to streamline operations for independently-owned franchises that required different software use cases and email templates to improve their marketing strategy.
The Client
Smash My Trash provides an environmentally friendly mobile waste and dumpster compacting service with more than 160 independently-owned franchises serving construction companies and similar businesses nationwide.
They serve customers and their communities by compacting waste in open-top dumpsters with their proprietary Smash Trucks to reduce commercial waste volume, save businesses money, and cut harmful greenhouse gas emissions.
The Challenge
Fixing a cluttered interface to simplify operations for 160+ franchises.
Complex Use Cases — Smash My Trash manages their business using HubSpot, including sales and marketing efforts for each of their franchises. This naturally resulted in a very complex portal setup with multiple types of users requiring different use cases.
HubSpot Portals Not Maximized — Without an experienced HubSpot manager/admin on staff, their multi-hub portal use was inefficient and didn't optimize HubSpot's customizable features. Reorganizing their portal structure and establishing sustainable procedures and systems for maintaining processes in the future was necessary.
Daily Operations Couldn't Be Disrupted — One of the largest challenges Smash My Trash faced was making these updates without disrupting the day-to-day operations of hundreds of franchisees using the portal to run their local businesses. This affected every part of the project and needed to be carefully managed to achieve maximum success for the company and its franchisees.
The Solution
Customized permissions, a single dashboard, email campaign templates, and user training.
Smash My Trash initially reached out to HIVE Strategy for an audit of their HubSpot portal usage and recommendations on leveraging HubSpot features for their specific needs. We performed a HubSpot audit of Smash My Trash's portal and analyzed their current usage to determine solutions that would bring them the most value from their HubSpot investment.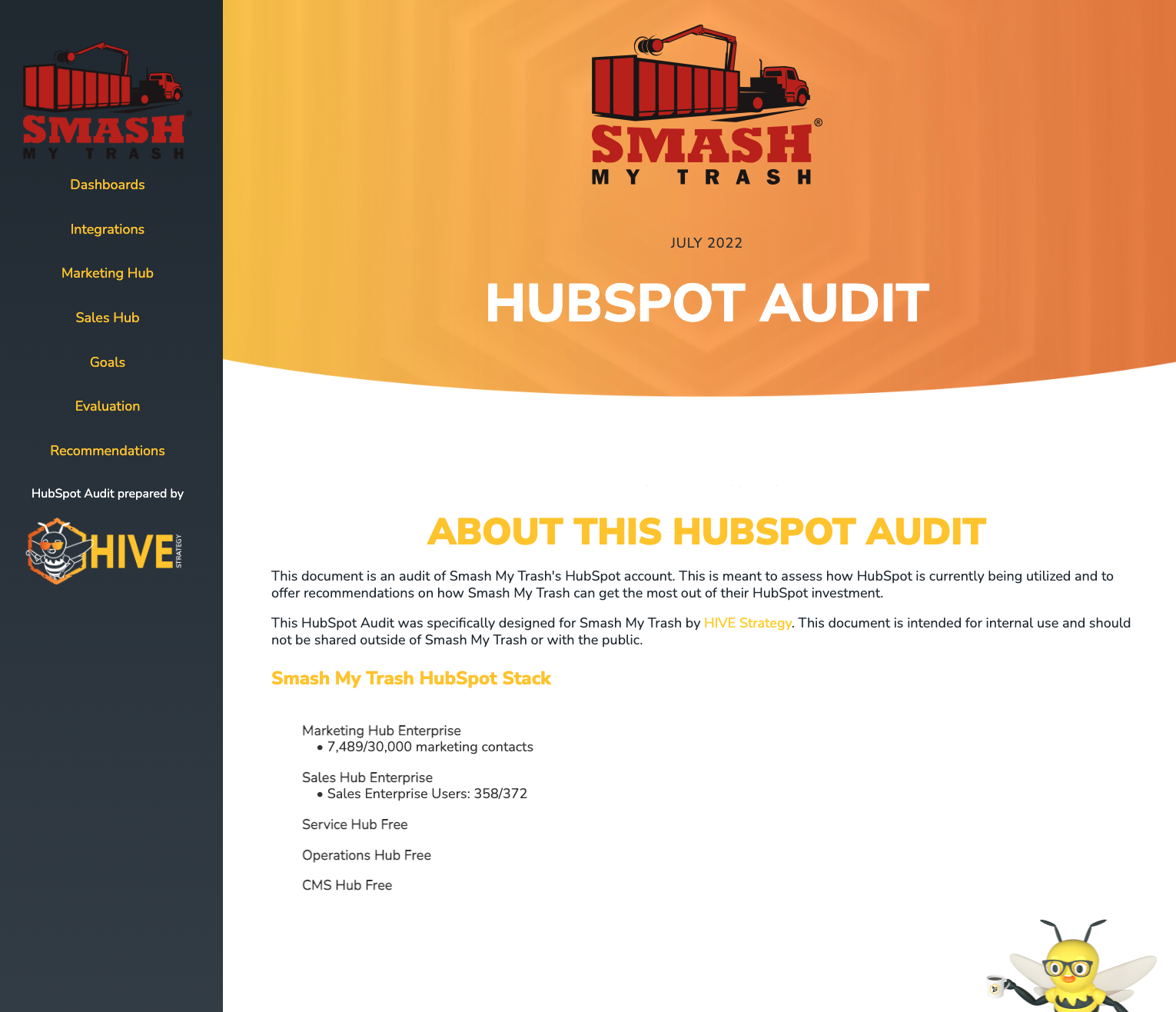 Here's how we optimized:
#1 Standardized permission sets for individual franchise owners.
The first part of the solution was to build a new permission set and organize HubSpot teams based on individual Smash My Trash franchise locations. This gave franchisees access to the same HubSpot portal, but limited access by locking aspects of the platform that were irrelevant to their day-to-day operations. HIVE customized HubSpot to showcase only the necessary hubs and objects for their respective work.
#2 Created a single, complete dashboard filtered by user permissions.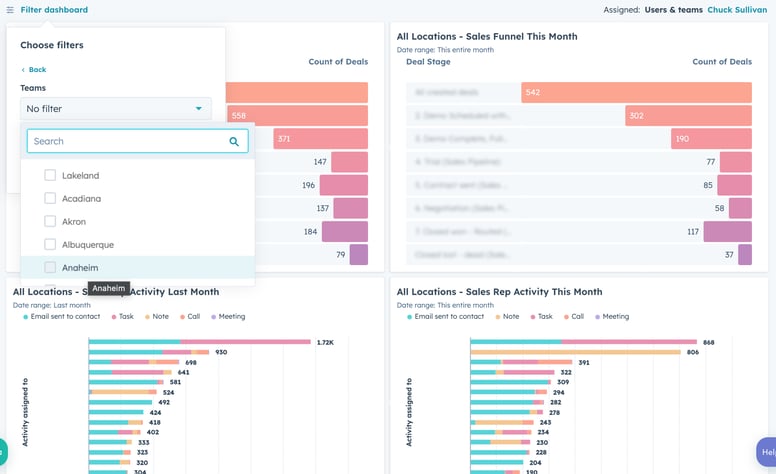 Once permission sets were standardized, we updated the existing reporting in HubSpot to be more streamlined and simplified allowing access to HubSpot sales and marketing hubs only for their own franchise sales and marketing efforts.
Smash My Trash had previously been using individual user-created dashboards for each franchise location which had irrelevant data and even information from other franchises. This was a privacy concern for both the franchisees and the franchisor.
Created Repeatable, Consistent, Internal HubSpot Processes.
#3 Provided HubSpot training.
With a unified custom dashboard in place, it was time to train the team. We held two, one-hour-long training sessions with corporate leadership, then created a collection of pre-recorded training videos to be distributed among franchisees. This allowed the corporate team to get up to speed and also created valuable training material for current and future franchisees.
#4 Created email drip campaign templates to aid in their corporate marketing strategy.
Email campaigns were written, designed, and built by the HIVE team, within Smash My Trash brand standards, utilizing automated emails and workflows. Having these templates available in the portal reduced the amount of time required to run campaigns and allowed them to reach more people effectively.
The Results and Impact
160+ Smash My Trash Franchises are running like a well-oiled machine.
A cohesive custom dashboard for each franchise eliminated clutter.
With a new dashboard, all Smash My Trash franchisees had access to their data from a single place. They no longer had to sift through numerous reports that included data centered around each of the franchises and National Accounts. Franchisees could now focus more time on completing sales and finding new customers instead of sifting through the data.
A seamless rollout for each franchisee through effective training and promotion.
"HIVE helped us understand what needed to be fixed, and they worked with us to configure the corrections. They also created a dashboard that allows us to show each franchisee how well they are performing versus others in the system," said Chuck Sullivan, CMO at Smash My Trash.
HIVE launched the new and improved HubSpot dashboard for Smash My Trash alongside video training and email campaigns to ensure a smooth transition for all users — corporate and franchise owners. The portal-specific training videos were a valuable, reusable asset for new and long-time franchise operators of SMT, relieving the corporate team of training new employees and franchises.
Increased email frequency accelerated their inbound marketing strategy.
With ready-to-launch email campaigns in their hands, Smash My Trash could greatly increase email frequency and reach.
"Prior to me joining the Smash My Trash team, franchisees had been asking for branded, easily deployable emails for use in sales and customer retention efforts. When I onboarded I was quickly assigned the task of working with HIVE to execute marketing campaigns for our owners. With the help of HIVE, these email campaigns made it easy for us to not only provide our franchisees with assets but allowed our team to immediately run campaigns," said Bridget Goffiney, Marketing Manager at Smash My Trash.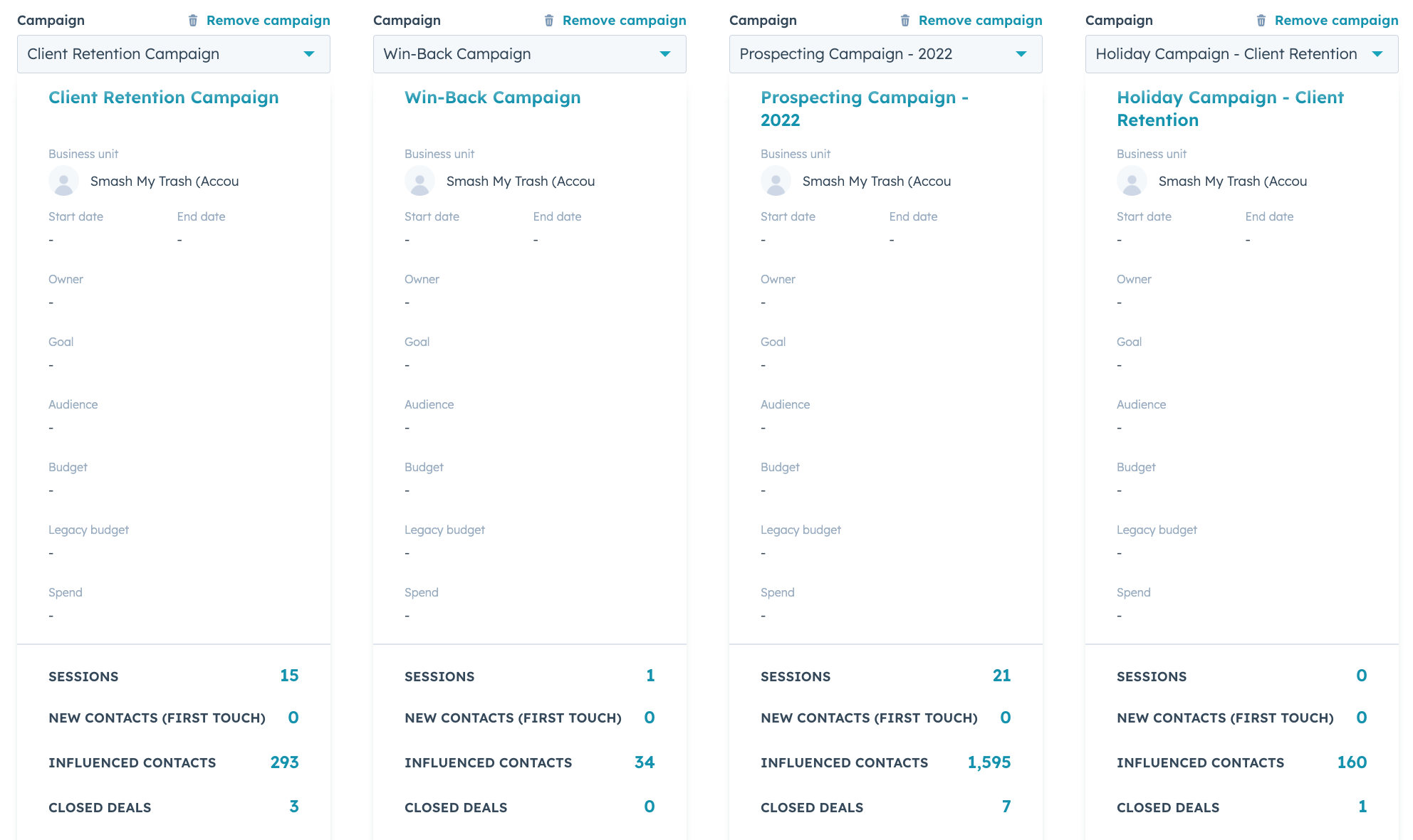 In fact, automated emails sent using these campaigns showed open rates between 11% and 30% and click-through rates of 4.5%.
It all started with a HubSpot audit. By getting the most out of HubSpot and training their team to properly use those tools, they can spend more time prospecting, selling, and keeping customers happy and in turn increasing the bottom line.