Creating valuable content to attract, engage, and delight your online audience is an important part of building an effective inbound marketing strategy. But it's not enough to create great content and hope for the best. To attract visitors to your website and content, you'll need to make it easy for both digital users and search engines to find and understand your content. Structuring your content in the form of topic clusters and pillar pages can help your search engine optimization (SEO) and make it easy for your website visitors to find exactly what they're looking for.
Inbound Marketing Strategy and SEO
There are many different ways to build up your inbound marketing strategy, but you'll have a hard time finding digital success without SEO. Search engines are often the gatekeeper for leads to find and engage with your website, so ensuring that you are ranking well with search engines is imperative.
In the past, SEO was based on keywords. Search engines would rank websites based on how relevant content was to the actual keywords that a user typed into their search bar. Today, SEO is a little different. Keywords are still important and impact where your website shows up in a search query, but with the vast number of websites out there (over 1.7 billion!) search engines have had to change the way they filter results to best cater to a user's queries by ranking based topics and associated keywords.
It's not enough to have a single blog post that uses a handful of keywords and call it a day. To create a robust inbound marketing strategy and optimized content, you'll need to organize your website based on topics relevant to your business. If this sounds complicated in theory, don't worry — it's much easier in practice with the help of topic clusters and pillar pages.
What are Topic Clusters?
Topic clusters are a way to organize content on your website so that search engines and visitors can quickly and easily find it. Instead of having standalone pieces of content created for specific keywords, a topic cluster groups relevant pieces of content around a single pillar topic, all connected with links. This helps boost your SEO as search engine algorithms can more easily find related content based on topics and will boost your rankings for the keywords you use in your pillar topic and related content.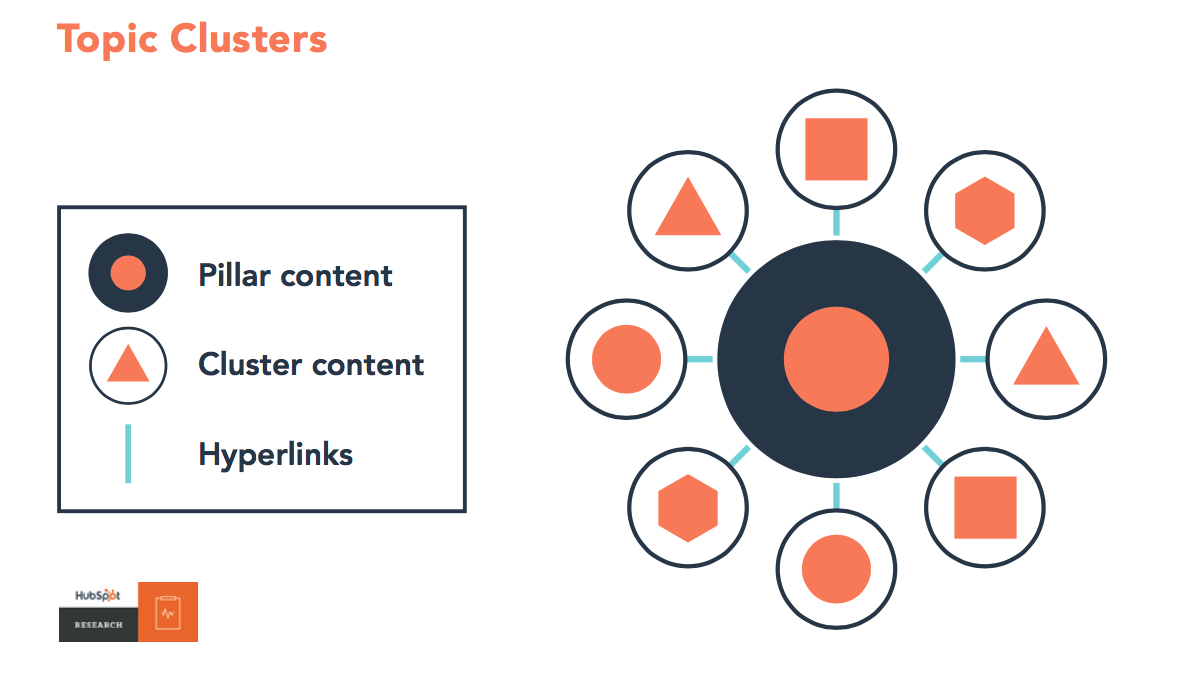 Thanks for the helpful graphic, HubSpot!
Choosing a Pillar Topic
Your pillar topics should be for the keywords that you would like to rank highest for or that are the most central to your business. As a digital strategy agency, for example, we have a pillar page about Inbound Marketing.
If you're struggling to determine what keywords are the most relevant for your pillar content, change your point of view by considering these questions:
What is a topic that is relevant to your business that a reader might need more information about?
What topics could your business be known as a thought leader for?
Can you provide any valuable education related to your products or services?
Once you have your pillar topic, you can create a pillar page, sub-topics, and links to connect all the components of your topic cluster together. Let's start with the pillar page.
What are Pillar Pages?
A pillar page is like a homepage for a specific topic. It provides a comprehensive overview of that topic and provides links to relevant sub-topics. A pillar page can be a landing page, a blog post, or a standard page of your website.
Your pillar page should provide a broad overview and be longer and more inclusive than a blog post or a standard page of web copy. Consider your pillar page like a Specific Topic 101. This is the place to establish yourself as a thought leader in your field and provide one stop for readers to gain knowledge of your topic and find resources for even deeper understanding.
From your pillar page, you'll link to related subtopics that contribute to your reader's understanding and play an important role in establishing strong search engine rankings for your pillar topic topic and related cluster content.
What is Cluster Content?
Cluster content is the supporting content that provides further information relevant to your topic pillar. Cluster content can be blogs, podcasts, newsletters, or any other form of content that can be linked back to your pillar page. The sub-topics for your cluster content should be related to your pillar content topic but provide more detailed information.
Your pillar page should have links to relevant cluster content and your supporting content should also link back to your pillar page. With links going both ways and comprehensive, connected content on a particular topic, you are more likely to see higher search result rankings for your pillar keywords as well as for your supporting content cluster keywords.
Instead of having individual blog posts or website pages with individual keywords (where you might end up competing with yourself for search engine rankings), creating topic clusters caters to Google's algorithms and creates a better user experience for your website visitors where related content is interconnected and easy to find.
Implementing Topic Clusters on Your Website
Transitioning your content strategy to include topic clusters and pillar pages can help your business see greater success in inbound marketing efforts with higher search engine rankings for your topic cluster keywords.
Every standalone topic relevant to your business or what web visitors are searching for should have a separate pillar page. And creating pillar pages doesn't mean you need to completely restructure your website (especially if you have HubSpot marketing professional or above as you can build a page and connect all fo the topic clusters in your planning and strategy tab). You can create a long-form blog post as a pillar page or create a landing page with links to blogs you already have written with relevant sub-topic keywords (this is a great option if you have high-value content like an ebook related to your pillar page topic that you ask visitors to fill out a form to download).
Integrating topic clusters into your inbound marketing strategy can build up your SEO, provide easy-use and clarity for your users, and establish your business as a thought leader. If you're looking for help building a comprehensive inbound marketing strategy and boosting your SEO, click below!