Things will be buzzing this week at the HIVE as our team will focus on professional development by learning, connecting, and growing through HubSpot Academy. It's important to us to know HubSpot inside and out so we can help our clients create successful inbound sales and marketing strategies. Keeping up with the latest technologies and techniques in HubSpot is sort of like our growth driven design philosophy. We are always building and optimizing our knowledge so that we can deliver value to our clients that will drive business growth for them (and us too!).
Why All the Buzz?
This week (May 9th - 13th) is HubSpot's third annual World Certification Week, but it's not just about getting certifications and learning. HubSpot is dedicated to giving back to and positively impacting communities through efforts like volunteering, holding charity auctions, fundraisers, and donations.
In North America, for every HubSpot certification awarded through HubSpot Academy, including recertifications and multiple certifications achieved by the same learner, HubSpot will donate $5 to one of four education-focused non-profits for a total of up to $50,000. In 2021, HubSpot donated $35,000 to support education access, thanks to certifications completed during World Certification Week. HubSpot has chosen different non-profit organizations across the globe, depending on your location.
What is HubSpot Academy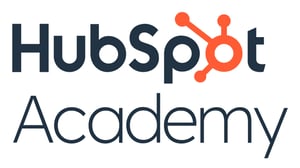 HubSpot Academy is a free online training tool for HubSpotters everywhere. You have access to comprehensive inbound marketing certifications, individual topic courses, and bite-sized lessons to sharpen your skills. The content is taught by experienced HubSpot inbound professors who eat, sleep, and breathe all things HubSpot.
The topics for certifications cover each of the Hubs in HubSpot's CRM software platform.
Marketing Hub
Inbound Certification
Inbound Marketing Certification
Content Marketing Certification
Email Marketing Certification
Social Media Marketing
HubSpot Marketing Software Certification
Contextual Marketing Certification
Sales Hub
Inbound Certification
Inbound Sales Certification
HubSpot Sales Software Certification
Frictionless Sales Certification
Sales Enablement Certification
Sales Management Training: Strategies for Developing a Successful Modern Sales Team
Service Hub
CMS Hub
HubSpot CMS for Marketers
HubSpot CMS for Developers
Operations Hub
Valuable Learning Resources
The courses are delivered in video format, with each topic divided into chapters. At the beginning of each chapter, you can see how long each one takes to complete. Each chapter includes links to download the slide deck, transcript, and additional resources like workbooks and links to supporting content. If you are an audio learner rather than a visual learner, you can open the course on your phone and listen while you cook dinner or walk the dog. One of the cool things about HubSpot Academy is that it's all self-paced.
Why HubSpot Academy is Important
The HubSpot suite of software is loaded with capabilities to manage all of your inbound marketing strategies and initiatives. This is huge! It's not something you can open up on day one and know everything there is to know about using it to the best of its ability. It's free, so you can't say you can't afford the tuition. Not only are you gaining valuable knowledge, but these certifications look great in your professional digital portfolio, on your resume, and on your LinkedIn profile! With HubSpot gaining popularity as a leading CRM, these skills are in high demand.
How Our Team Stacks Up
The HIVE team is always learning, and we are very competitive (it's all in good fun — mostly). Our goal for World Certification Week is to have every HubSpot certification as an agency. I won't lie, it's a pretty ambitious goal, but for a group of overachievers, I have confidence we will achieve it.
Here are the certifications the HIVE team (listed in alphabetical order) is planning on working on for World Certification Week :
Brian: CMS for Developers
Dustin: Platform Consulting, Objectives-Based Onboarding, Digital Advertising, Revenue Operations
Erin: HubSpot Reporting, CMS for Developers, A/B Testing
Hunter: HubSpot Reporting, Guided Client Onboarding
Jill: HubSpot Reporting, Inbound Marketing Optimization, Digital Advertising
Mallory: Guided Client Onboarding, HubSpot Reporting, Inbound Marketing Optimization
Mason: Guided Client Onboarding, Marketing Hub Implementation
Tim: Sales Hub Demo, Developing a Sales Plan, Sales Management
Yvonne: Inbound Marketing Optimization, Revenue Operations
In all honesty, I think some of the team is sandbagging and not divulging their full strategy. It's the competitive thing. There is a hot rumor that there might be an extra internal prize for the team member that passes the lead certification holder. One of us has 15. Not saying who. Don't want to stir up a hornet's nest. 😉
It's important to make getting HubSpot certifications a priority, especially if you have aspirations to become a Certified HubSpot Trainer. Pssst, we have one of the only 45 in the US on our team. To learn more about our team, check out our Team Page. Stay tuned for an update on how our week turned out!
Want to learn more about the power of HubSpot? Check out our free HubSpot one-pagers that give you a high level overview of the tools and what you can accomplish with HubSpot.