For many businesses, HubSpot is meant to be the "source of truth". It is meant to be the location where all campaigns, data, and reporting live, but there are times where other tools are necessary to report and track things that can't be handled within HubSpot. Until now, those things were completely separate. Now, you can embed external content right into your HubSpot dashboards! Whether it's information from Databox, a Google slide, keyword rankings, billing, or anything else. If you can pull an embed code or URL, you can now add it right to your HubSpot dashboard and truly make your HubSpot dashboard the source of truth.
This blog post is part of our How to Use HubSpot series focused on helping our readers get the most out of their HubSpot portal with tips and tricks on best practices within HubSpot. Some features and tools can be hidden or hard to find. We're uncovering those tools. Follow along and catch all of our HubSpot tips here.
This addition is very similar to our tip on embedding images, text, and videos to your dashboard, but it takes it to a whole new level with the ability to embed other tools and systems and view them live.
For example, at HIVE most of our information lives within HubSpot, but it all can't, well, until now. For example, we track our keyword rankings and our traction there. Now we don't have to look at that other tool in order to see how we're trending. We can do it right within HubSpot! 😱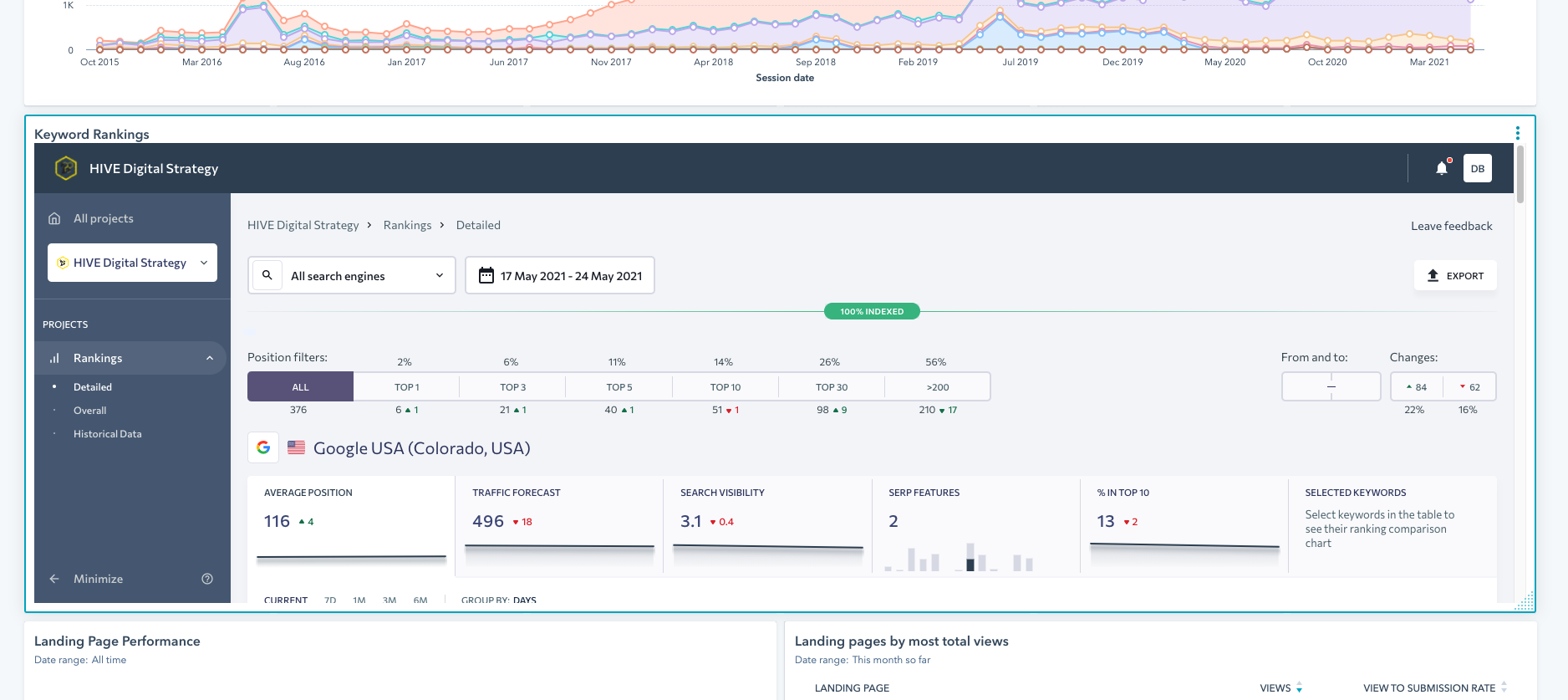 Ready to embed your own content on your dashboards? Let's go! Here's how you can do it:
Navigate to the dashboard you want to embed your content on.
Click on the Actions dropdown.
Click on Embed external content.



Give your report a title.
Paste your

URL or embed code

.



Click Create.
That will create a brand new report at the bottom of your dashboard. Now you can re-size and move your report to wherever on your dashboard that makes most sense.
And poof! ✨ just like that you now have a more functional and more useful dashboard! Now get to work customizing those dashboards and be sure to share your custom reports with us in the comments! We're always looking for cool ways to use this new feature!
Check back regularly to find other tips on how to use HubSpot!
Not sure if you're getting all you can out of your HubSpot portal and investment? Our HubSpot Audit will dive into every tool within the platform, evaluate usage, and make recommendations on how HubSpot can work harder for your business. Learn more about our HubSpot Audit below!