When a client is growing fast, and their website is not keeping up, you activate all hands on deck to determine a scalable growth option. For 4BR, the HubSpot CMS was a no-brainer to help gain insight on website views (and permissioned page views), integrate member payments on the website, and manage a rapidly expanding membership directory.
The Client
4BR: Building Better Business By Referral was born in 2010 in north Denver out of frustration with the lack of current business networking and leads groups options to create long-term business relationships and foster mutually beneficial business growth.

Tammy Urbach started with one group of business professionals meeting over food and drinks to share information about their businesses and find ways they could mutually benefit each other.
The Challenge
4BR had quickly outgrown their WordPress website and their UX had become poor. Urbach reached out to HIVE Strategy, for website processes and automation that could:
Speed up the manual membership sign-up process.
Gather member information as part of the sign-up process.
Allow for online payment processing and recurring payments.
Maintain a membership directory including a backlink to the member's business.
Attach membership directory information to a specific 4BR group.
Share all group location and meeting time information in a digital format.
Protect proprietary 4BR growth system training videos and documentation from unauthorized users.
Share and manage events more easily.
The Solutions
Urbach agreed that migrating to the HubSpot CMS would alleviate many current pain points.
"After a few years of working with Dustin, HIVE's Owner and CEO, and seeing his own business grow with the 4BR membership and systems, I trusted his expertise in moving website platforms. Since he was a member, he also had knowledge on the biggest issues we faced running the business efficiently to both attract and retain members," Said Tammy.
HIVE planned to migrate the 4BR website off of WordPress onto HubSpot CMS in order to:
1. Simplify Registration

SOLUTION: Remove the manual email process of gathering initial membership information by utilizing progressive HubSpot CTAs and forms to capture and link member information in the CRM.

EXECUTION: HIVE was able to repurpose existing website forms in the new membership application process by using CTA buttons to redirect to another form with additional membership guideline policy agreements and a member information form. Redirects also included a step to determine payment frequency and cadence and processed the payment via a Stripe integration.

IMPACT: This process not only dramatically reduced the manual effort for Urbach and support teams, but also reduced the prospect abandonment of the payment process. The automated payment process option also dramatically reduced Urbach and her bookkeeper's time for processing and tracking payments for recurring membership fees.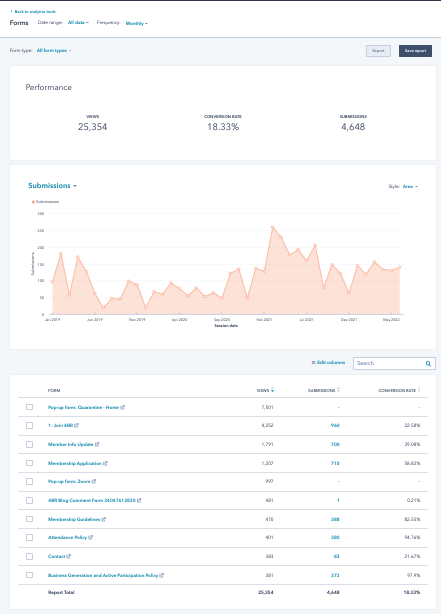 2. Organize Group Information
SOLUTION: Group pages to display time, location, member information, and even give prospective members the ability to register to visit the group.

EXECUTION: Group pages were built in a website template so the style and content could be reused repeatedly making it easy to manage as new groups are created. Header modules included a brand stylized group name as well as the meeting time and location. Each page included a form specific to the group for ease of prospect management and follow-up. An embedded Google map ensured even guests could arrive at the correct location. Additionally, a custom directory module allowed current group members to be displayed with a filtered view from the organization-wide membership directory.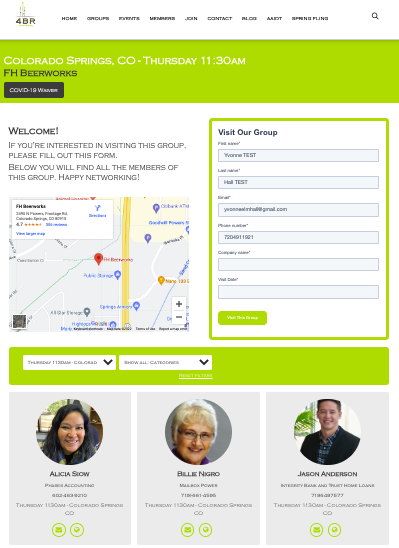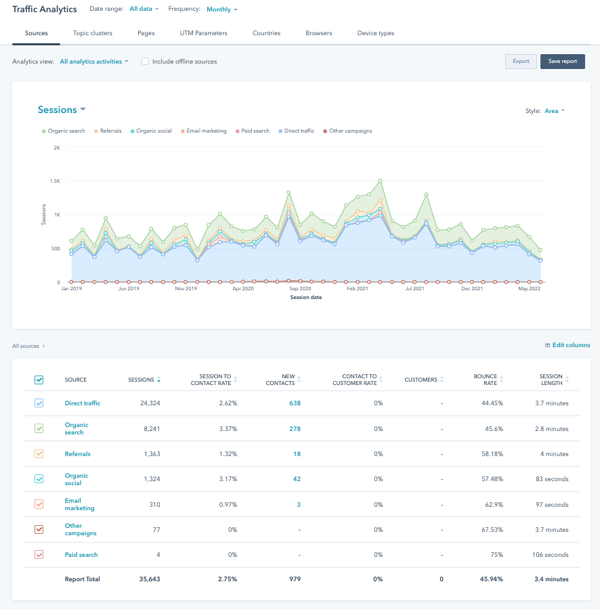 IMPACT: The group-centric design of these pages allowed prospects to stay on a single page to research the best group for them and increased membership conversions.
3. Maintain Membership Directory
SOLUTION: Utilizing HubDB and dynamic pages for an easily managed membership directory.

EXECUTION: By creating a membership HubDB row for each member, utilizing the member info update form information, member information can easily be added to the main directory and a stand-alone dynamic page is created so that each member has a separate, indexable member page. Updates and changes from the membership directory are easily accomplished through a quick HubDB search. Since this information is housed in HubDB, it also allows the filtered members to be displayed on the correct group pages.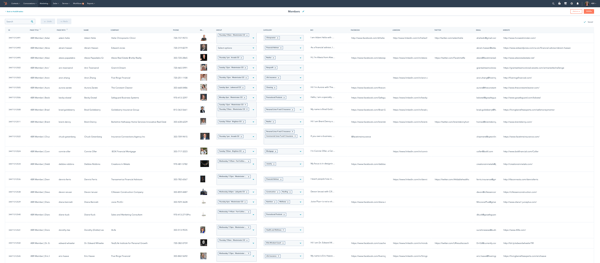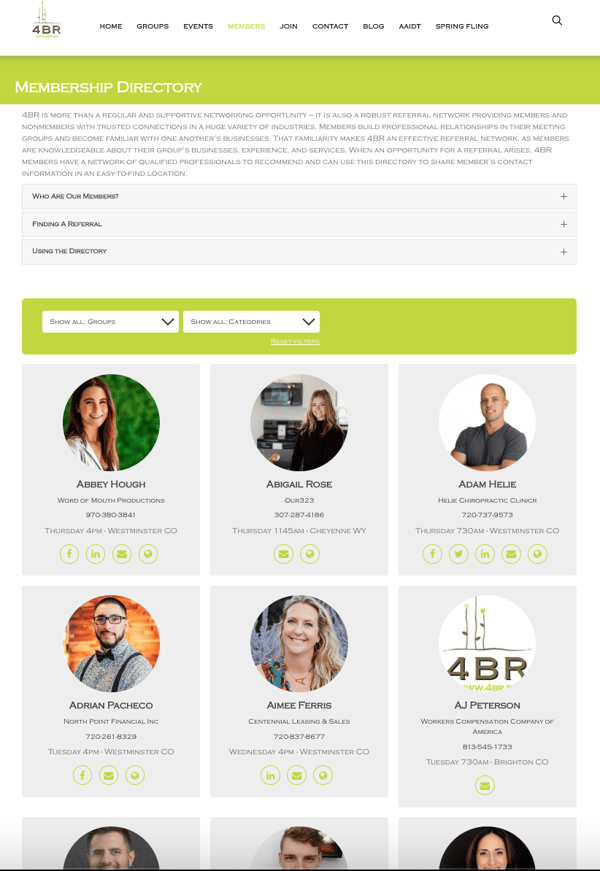 IMPACT: The combination of functionality and style of the HubDB solution to the membership directory reduced the time and labor to update pages.
4. Protect Proprietary Assets
SOLUTION: Use smart content to manage sensitive information and only have it accessible to Territory Managers, Group Leaders, and Record Keepers.

EXECUTION: The use of smart content allowed videos to only be seen by those on a list of Territory Managers, content was protected while easily managing access to the videos through a static list.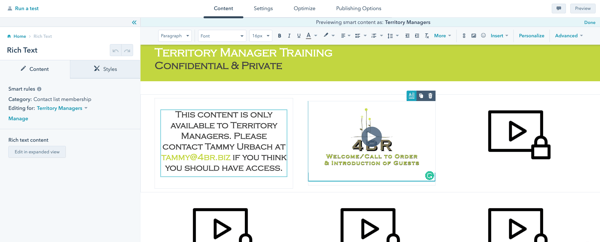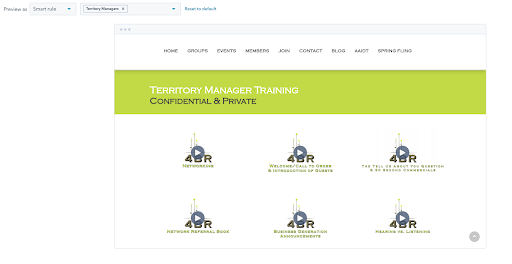 Smart content was also utilized to share access to record-keeping documents with specific users. Group pages contain a smart content section where non-authorized users see a welcome message. Authorized users see a Record Keeper call-to-action linked to a group document.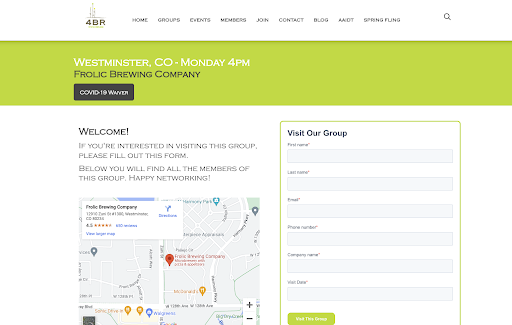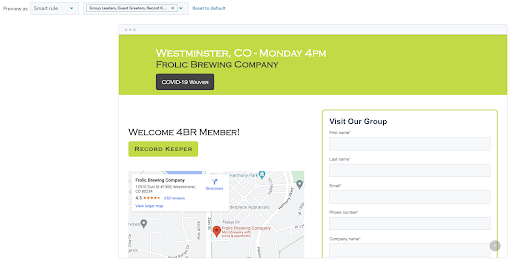 IMPACT: Smart content solutions allowed all authorized users to access the information they needed in an intuitive way while also protecting 4BR's proprietary information.
5. Reduce Manual Processes
SOLUTION: Utilizing HubDB to create a calendar view of events that can be easily updated or changed.

EXECUTION: By creating and housing event information in a HubDB table it allows for easy editing and styling which feeds into a user-friendly calendar experience on their Events calendar.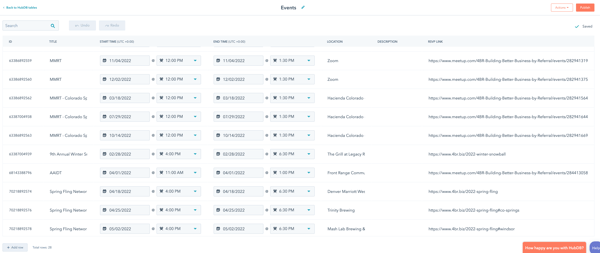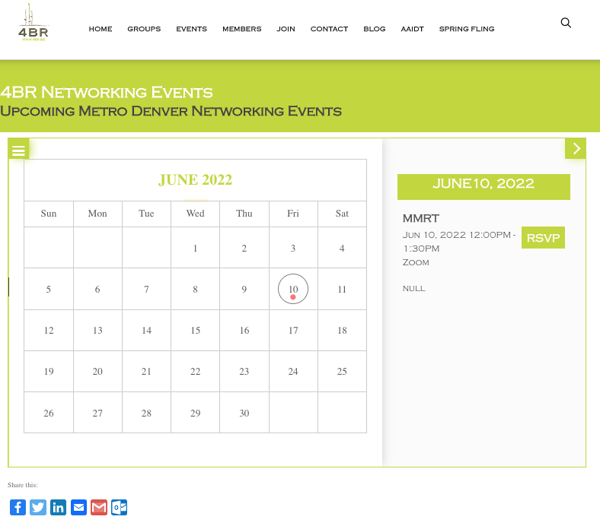 IMPACT: Members were happy with the easier-to-read format that also saved Urbach and support staff time and labor to keep updated.
Conclusion
The result of moving the 4BR.biz website to HubSpot CMS was felt by prospects, members, and those maintaining the 4BR website. HubDB allowed for quicker and easier updates as well as easy-to-find information on members supporting 4BR's growth to 28 groups throughout Colorado and Wyoming.

Interested in learning more about how HubDB can support your business and make website management easier? Join us for our free virtual HubSpot User Group presentation on HubDB: The Most Powerful HubSpot Tool You're Probably Not Using...Yet.