We get the question all the time - "Which is the best CRM for us? Which do you recommend?"
The fact is, there are so many, too many, options out there for customer relationship management softwares. There are paid options, free options, industry specific options, options built into other softwares like project management tools and email tools, and of course, there is always the dreaded spreadsheet option (please, pretty please do not go with this option).
While there are so many options, and of course we haven't tried them all, we are absolutely in love with the HubSpot CRM. While we may be a little biased since we are a HubSpot Partner Agency, we know a good useful tool when we see one.
We have software sales people knocking down our doors and bombarding our email on a daily basis claiming they have the next great thing. This may be for a CRM, lead generation software, inbound marketing software, accounting software, SEO software, PPC software, or a software that gives you super powers (ok, maybe I'm waiting anxiously for this one 😉).
While we have so many options for CRMs and we are asked to recommend the best CRM frequently, we come back to the HubSpot CRM every single time. Why? Let's take a look at our seven favorite features of the HubSpot CRM and why you should, at the very least, give it a try.
It's FREE!
We all love free, but it typically comes with some sort of catch. The good news with the HubSpot CRM is that it's free and catch-free. You can start using it right now and never have to pay for it. I am continuously baffled when people tell me that they spend a bunch of money on their CRM. Why would you pay for it when you can get all the functionality you need out of this one and never pay a dime?
No contact limits
One of the big catches, like I talked about above, is the contact limits. A lot of CRMs are free up to a certain number of contacts and then they go into a tiered pricing structure. Not HubSpot. When they say free, they mean it.
The only time you are faced with contact-based pricing is through the marketing software, never through just the CRM.
Sleek and easy segmentation
A database is only as good as your ability to segment it. Each of your contacts is different. They are in different stages of the buyer's journey, they are interested in different pieces of your business, and want to see different content. Through the HubSpot CRM you're able to easily and effectively segment in a matter of a few clicks.
Need to create a list of people that visited a specific page on your website over the last three days and also downloaded a piece of content from your site? Done.
Creating segmented lists of contacts allows you to understand what people are looking for from your company. Personalization in your marketing and sales functions is more important today than it has ever been. You can't personalize content if you don't know your contacts.
Customizable
There are companies in several industries that regularly pay hundreds (even thousands) of dollars per month on their CRM because they are industry specific. That's absolutely INSANE!
When we are talking with a new prospect about our inbound marketing services, we are frequently faced with the objection that we don't ONLY focus in their industry. This is true. We have a few target industries, but we have not limited HIVE Digital Strategy to be an agency that ONLY works with education organizations (for example). Those niche agencies position themselves as experts in the education industry because it's all they do. But are they really experts? Are we really not? Inbound marketing functions and tactics are all the same whether they are being done for education or retail or nonprofits or fidget spinners. What is different is the strategy and execution. Strategy and execution are not niche features.
The same is true of CRMs. Just because one CRM is only sold to Realtors (for example) does not mean that it's the best CRM for Realtors. Through the ability to customize the HubSpot CRM, we have yet to find an industry that it isn't perfect for. It's all about setting it up to function the way that you need it to.
Deep insights
Knowledge and information are power. If you know your contacts, you can sell to your contacts. You can help them identify their pain points. You can uncover objections. You can effectively communicate with them. Through the insights that you get with the HubSpot CRM you'll be able to know any time someone interacts with your company. This includes things like:
Website page visits (which pages, how many times, when, etc.)
Email opens
Email clicks
Downloads
Blog visits
And more!
Now, you can really start to understand every single one of your contacts in a much deeper way. So instead of reaching out to your entire database with the same static (and boring) message, you can reach out to Tiffany who is interested in your business tax planning services which you know because she has downloaded your business tax planning checklist and she has visited three of your blog posts about business tax planning. That's powerful.
Free versions of sales and marketing products
HubSpot offers a variety of marketing and sales softwares to reach your goals, but there is also a free version of each that integrate very well with your HubSpot CRM.
Through the marketing free software, you can create lead flows that slide in, drop down, or popup on your website to help visitors quickly convert into leads for your company. As soon as someone fills out the form they go directly into your CRM and you even get a notification about it. Pretty sweet!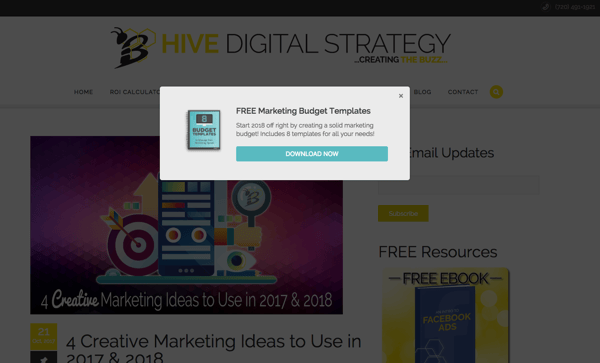 Through the sales free you can see when someone opens one of your personal emails (ex. sent from info@yourdomain.com), create and track tasks and deals for your sales team, create online scheduling, call prospects directly from your CRM, and even get deeper insights into contacts and companies.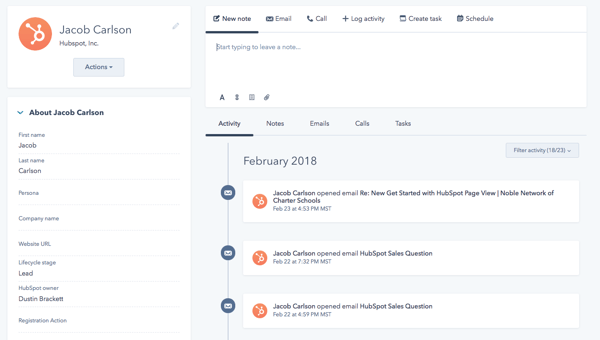 Integrations
Finally, one of the coolest features is the integration with Gmail and Outlook. Without even going to our CRM we can send, track, and log an email for a specific contact right through our email inbox. No need to go back into the CRM to leave a note that we reached out to John Doe, the integration does that for us. Pretty cool.

A CRM is a mandatory piece of business for almost every professional, but so many either aren't using one, paying for one, or using the old-school and ineffective spreadsheet model (yikes!). WHY? If you want my opinion, it's time to give the HubSpot CRM a shot.
If you're looking for more than what the HubSpot CRM, marketing free, and sales free softwares provide, let us give you a full demo of the HubSpot softwares and show you how it can truly transform how you do business and how you attract the right customers when they're looking for you.