Google is always updating search engine results and page features to enhance the user's search experience. Their 2013 version of Quick Answers has come a long way, and as Google leans more into user experience upgrades, it will surely continue to update SERP options for users.
Feature-type sections on Google search engine results pages (SERPs) have continued to expand since 2013's Quick Answers with more enhanced options, even though early experts worried about this feature having a negative impact on click-through rates. But it seems marketers and developers alike now see the brand impact when getting featured. Most B2B marketers are working to realize the benefits of a #1 position on the search engine results page, especially if that position includes more detail than a standard organic style. Standing out among the results gets you noticed and builds credibility with potential prospects. If you've been wondering how that featured snippet happens, keep reading!
Enhanced search results like featured snippets utilize Google's structured data, or schema.org vocabulary, to enable special features on a SERP for a better user experience. It allows the user to see an answer to their search phrase without clicking through to the page. This results in quicker, more successful sessions for Google users. But the magic that allows these enhanced feature results can also be applied to your pages and content to increase the option of getting featured.
Quick Links
What is Structured Data?
Structured data, also known as schema markup or as JSON-LD markup, is a standardized format that helps search engines better understand the context of a page. In addition, schema markup is what Google uses to generate rich snippets on search results pages for special types of content.
According to Google, structured data "is a standardized format for providing information about a page and classifying the page content. Google uses structured data that it finds on the web to understand the content of the page, as well as to gather information about the web and the world in general."
Creating Structured Data Using CMS Settings
Here at HIVE, we've turned on the new BETA structured data tool for our clients in their HubSpot blog settings, which, combined with creating content aimed to answer questions easily, will result in more feature snippets and enhanced results for our clients. Without a tool or plugin within your CMS or marketing platform, you should be editing the HTML to inform search engines about specific page properties used in enhanced and featured search engine results. But there are additional ways to optimize your web pages to show up in all sorts of featured search result styles. Unfortunately, many of these options require code.
With the schema being added in HubSpot portals, blog posts that include lists are an easy way to be considered for a feature snippet result. Provide a list of the topic areas that will appear in your post and then hyperlink them with anchor tags to the content below. A side benefit is a more engaging user experience for your readers. We used a list at the top of this article. Here's another example: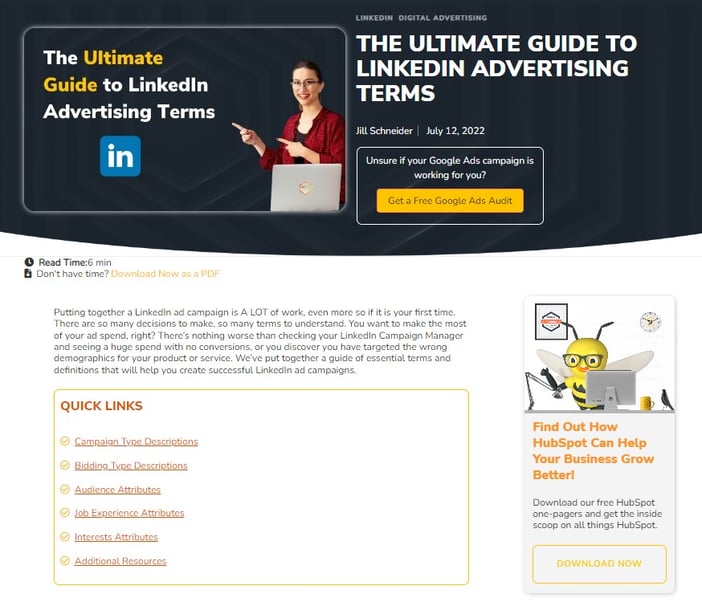 As a marketer, we recommend visiting Google's documentation page on Understanding Structured Data to learn more about the features, capabilities, and details for creating content optimized for search result enhancements.
Data Must Be Relevant to the Content
In the Google Search Central documentation, it recommends, "You must include all the required properties for an object to be eligible for appearance in Google Search with enhanced display. In general, defining more recommended features can make it more likely that your information can appear in search results with enhanced display. However, it is more important to supply fewer but complete and accurate recommended properties rather than trying to provide every possible recommended property with less complete, badly-formed, or inaccurate data."
The Google Search Central documentation page for understanding structured data also provides links to many featured guide details, explanations, and code examples for various feature snippet types in the left navigation bar.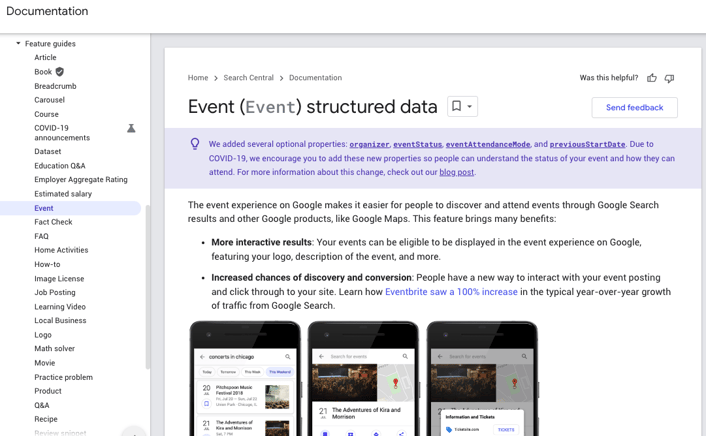 https://developers.google.com/search/docs/appearance/structured-data/event
If you think you may have some content already optimized, you can easily check for enhanced data with Google's Rich Results Test by entering a URL.
Follow Structured Data Guidelines and Policies
It is important to learn the structured data guidelines and feature snippets policies so a site is not reported by users, which could potentially jeopardize the entire site. Google's automated systems are designed not to show featured snippets that don't follow policies. Google also manually removes any user-reported featured snippets if violations are found. And when that featured snippet is reviewed, the website will also be reviewed against the webmaster guidelines to determine if the overall site may no longer be eligible for featured snippets.
As you should know, Google is always serious about their search content policies and never allows:
Dangerous content
Deceptive practices
Harassing content
Hateful content
Manipulated media
Medical content
Sexually explicit content
Terrorist content
Violence and gore
Vulgar language and profanity
If you are looking to easily enhance your blog for featured results without the help of a developer, adding HubSpot could be a powerful tool not only for featured results but for all your marketing activities. HubSpot powers your efforts seamlessly integrated with their CRM to hold all activity data and information on leads, prospects, and customers.
If you do not have a HubSpot blog implemented, we'd love to help get you the best deal for HubSpot's Marketing Hub. Check out all of the Marketing Hub features included with this easy blog functionality and the one-click option to implement structured data.