If you've read any of my blog posts, you know I love HubSpot. There are so many great tools that are like a shortcut for those who are not well versed in the intricacies of each digital marketing facet, don't have the funds to hire a specialist in each area, but still have the C-Suite asking you for continual increases on MoM and YoY reporting.
But you do have access to an easy button. It is called HubSpot, and these tools also help you learn, so no matter what CMS you use, you can immediately implement your new SEO skills and knowledge.
SEO Tools in HubSpot
HubSpot has many SEO tools built in that make any marketer look like an SEO guru! It has all of these tools in the Marketing Hub via the blog post content editor or in website pages in the content page editor.

There are also more complex SEO tools available in the SEO dropdown under Marketing Hub, for qualified account levels. These tools allow you to plan your content around topics and allow these grouped topics to elevate your authority with search engines through keywords and internal content links.

Let's dig into each SEO tool area and share how these on-demand tools in your HubSpot platform allow you to immediately activate SEO strategies and help you learn more about SEO tactics for the future!
Heading Tag/Style and SEO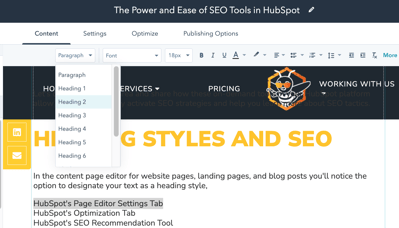 In the content page editor for website pages, landing pages, and blog posts, you'll notice the option to designate your text as a heading style, determined by selecting Heading 1-6 in the font editor dropdown selector. Not only does this selection change your text font size and style (which is based on the default heading properties in your portal or template/page CSS style sheets), but it also gives search engines details about the content on your page. Adding keywords or keyword phrases is very helpful in headings 1-6 for this reason.
Another tip: you should go in order, like an outline, format for these heading designations on your page from H1 at the top, then H2, H3, H4, H5, or H6 as needed below. However, there is no need to use them all.
Please also remember you'll get penalized if your page has more than ONE heading 1, or H1, on the page. So limit the H1 use to your Title/Headline.
HubSpot's Content Editor Settings Tab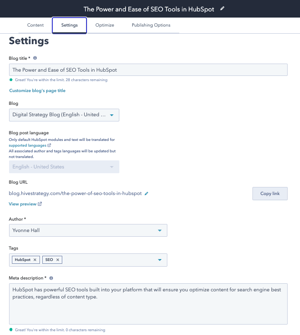 The HubSpot page/content editor has a settings tab that prompts you to complete all required SEO page sections and actively reminds you of character limits (in the helper text below the content field/box) as you type. Everything important, from a page title, automated URL creator (both of which should include your primary keyword), and meta description, has a text box here in the settings tab.
And when you designate the page's featured image, a prompt even appears asking for image alt text to be added.
HubSpot's Optimization Tab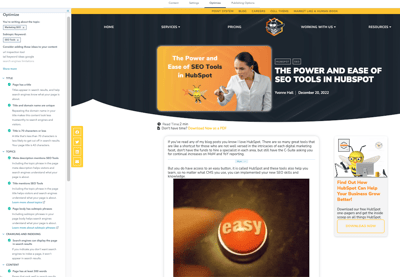 Did you know each website page must have at least 300 words to be indexed by search engines?
Well, your HubSpot portal knows and shares that and many more details in the page/content editor's optimization tab. In that tab's left column, you'll see color-coded status dots detailing SEO best practices.
The tab covers optimization for content, title, topics, mobile friendliness, crawling and indexing, meta description, images, header, and links.
But not all of the SEO tools live in the page editor, and your website does not even need to be hosted in HubSpot's CMS Hub to take advantage of these SEO tools!
All HubSpot accounts have access to SEO recommendations in the page editor. SEO topics and the recommendations in the SEO tool mentioned below are available for Marketing Hub Professional and Enterprise accounts and CMS Hub Professional and Enterprise accounts only.
HubSpot's SEO Recommendation Tool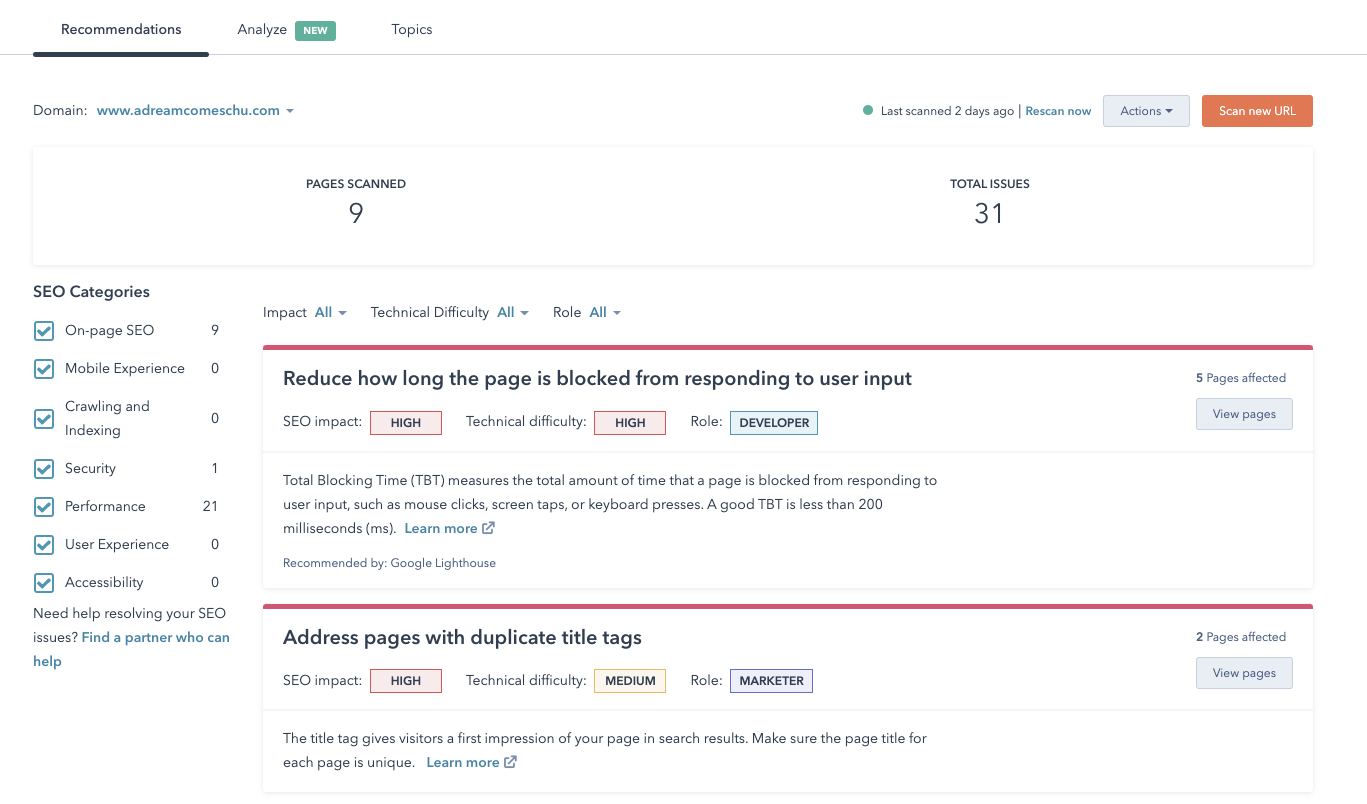 HubSpot makes it easy to understand how to optimize your website content, regardless of where it is hosted, in one convenient location. The SEO recommendation tool can be found in the Marketing Hub drop-down at the top in your portal navigation. There you can find actionable recommendations on optimizing your website's speed, mobile performance, on-page SEO, accessibility, and more. And you can quickly and easily rescan your site after you've made updates. Simply click the "Rescan Now" hyperlink at the top right of the page.
HubSpot's Topic Clusters Tool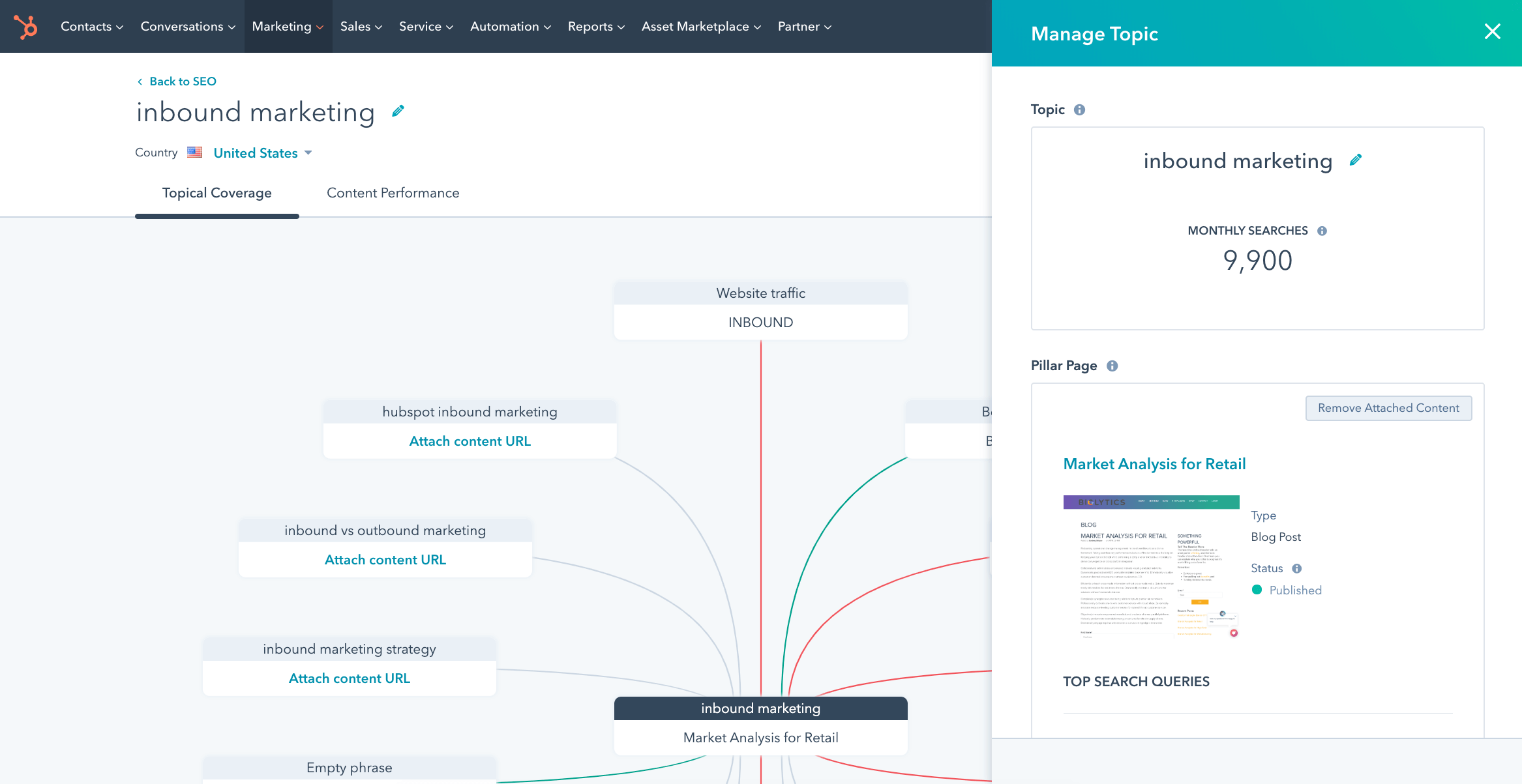 Since search engines reward websites whose content is organized by topics, HubSpot's topic cluster tool makes it easy to discover and rank for the most relevant and important topics (and keywords) that matter to you and your visitors.
This SEO tool allows you to plan your content strategy and build search authority, all while teaching you best practices along the way. You'll get topic suggestions based on relevance, competition, and popularity, as well as access to monthly search data so you can estimate how ranking for specific topics will translate to your organic traffic goals.
HubSpot is a powerful tool that helps optimize and automate all of your marketing needs, whether you use it for your CRM or not. Find out how the HubSpot suite of tools can enhance your marketing efforts and reporting, and reach out so we can get you the best HubSpot pricing.