When you look at your deal pipelines, you need the most relevant information at a glance. And what that relevant information is, well, that can vary from business to business or even sales manager to sales manager.
You don't have to be stuck with the out-of-the-box options of Deal Name, Amount, and Close Date in your HubSpot deal pipeline board view.
This blog post is part of our How to Use HubSpot series focused on helping our readers get the most out of their HubSpot portal with tips and tricks on best practices within HubSpot. Some features and tools can be hidden or hard to find. We're uncovering those tools. Follow along and catch all of our HubSpot tips here.
While Deal Name is required for any deal (for obvious reasons), Amount and Close Date can be changed to show other properties. Those two properties are the default options on deal cards because typically they are important to any business's sales process, but what if you would rather see if a deal is a retainer or project instead of seeing Close Date? Here's how you can truly make your deal pipelines your own.
Below you can see what a normal (condensed view) pipeline will look like. It has a card for each deal, the deal name, amount, and close date.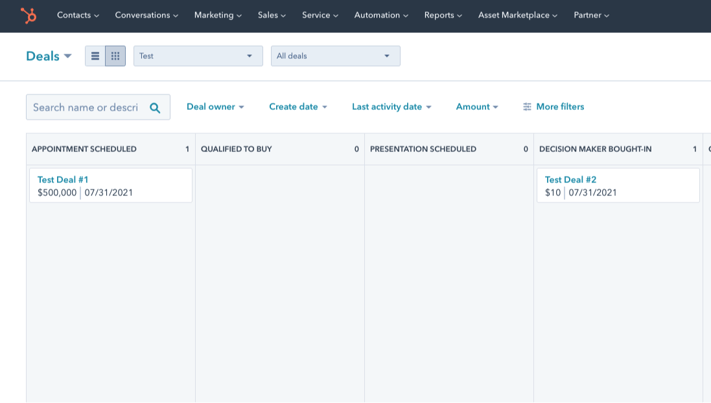 First, if you are going to be pulling in a custom property, make sure that it is created in your portal as a Deal Property. Here's how you can do that:
Click the Gear Icon in the top right corner
On the left, click on Properties
Change the Select an object dropdown to Deal properties
On the right, click the orange Create property button
Create whatever property you need to create and save it. Now you have a shiny new deal property that you can reference in your deal pipelines.
Now let's get to the fun part — making your deals in your deal pipeline board view show the info you want at a glance. You are limited to two properties to be displayed here, but you can change those two properties to whichever deal properties that you'd like. Here's how:
Click the Gear Icon in the top right corner
On the left, scroll down to Objects and open the dropdown
Click Deals
Click the

Record Customization

tab
Click Choose deal properties shown in board view


You will see the two properties that you can change as dropdown options

Select the properties you would like to show

Note: The top property will show on the left in a condensed view and on top in a default view, the bottom property will show on the right in a condensed view and on bottom in a default view.

Click Save.
Now you have set the way you want your board view to look! It's worth noting that this will change the board view for all of your deal pipelines. In our example below, we have changed the option that used to be Close Date to now report on a custom property that we created called Deal Type which has the option of Retainer or Project.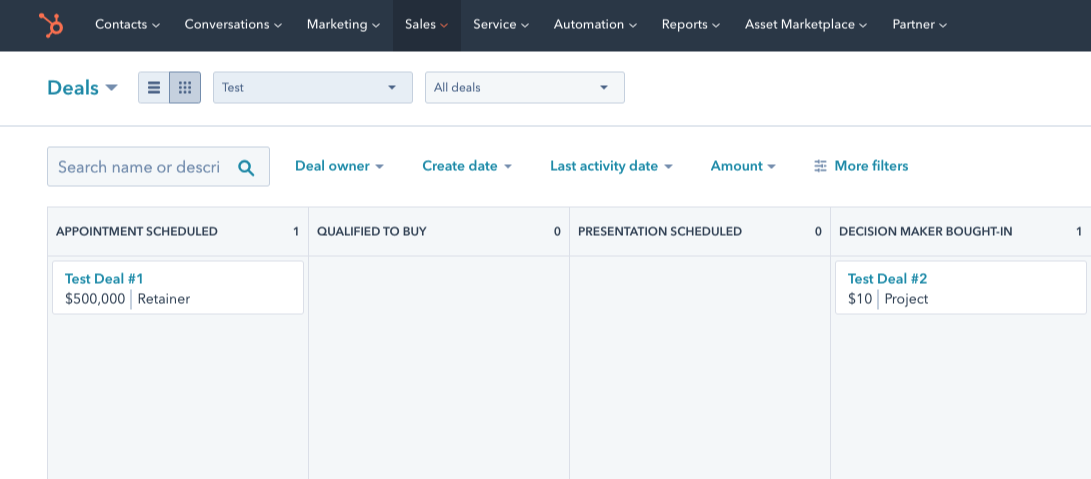 Check back regularly to find other tips on how to use HubSpot!
Not sure if you're getting all you can out of your HubSpot portal and investment? Our HubSpot Audit will dive into every tool within the platform, evaluate usage, and make recommendations on how HubSpot can work harder for your business. Learn more about our HubSpot Audit below!