Your HubSpot account is home to a lot of contacts, assets, and information. Multiple teams use your customer data to influence their decisions, get in contact with leads, and close deals. HubSpot has hefty customization possibilities to streamline your asset management, but only if you know how to use the full extent of your tools.
Asset partitioning is an easy way to organize your content so that only relevant team members have access. This can cut down on asset misuse or editing that can cause headaches across teams.
This blog post is part of our How to Use HubSpot series focused on helping our readers get the most out of their HubSpot portal with tips and tricks on best practices within HubSpot. Some features and tools can be hidden or hard to find. We're uncovering those tools. Follow along and catch all of our HubSpot tips here.
Asset Partitioning in HubSpot
Asset partitioning availability varies by hub. Users across all hubs and tiers can partition CRM records, views, and the conversations inbox. With Sales or Service Hub at the Professional or Enterprise level, you can partition templates, sequences, documents, and playbooks, as well. With Marketing Enterprise, you have the most asset partitioning options, including blog posts, landing pages, forms, workflows, and dashboards.
Here is a breakdown of partitioning options by Hub: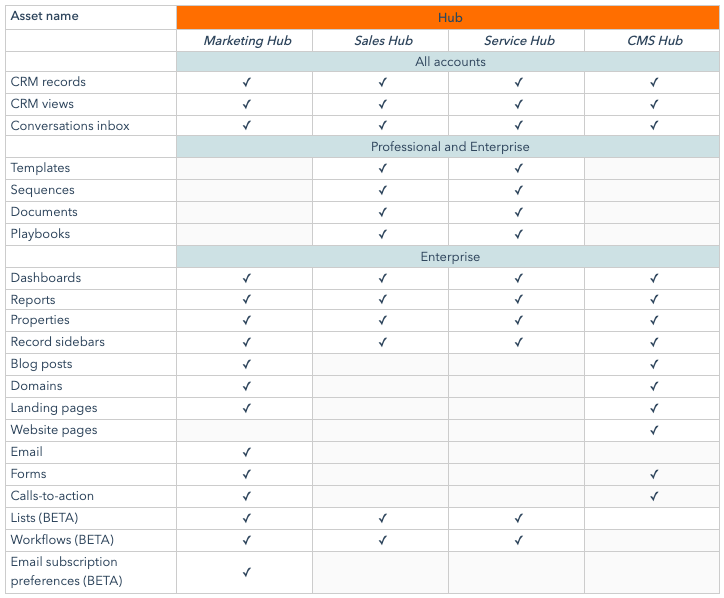 For a complete breakdown of assets available for partitioning by Hub tier as well as partitioning details, visit this Knowledge Base post from HubSpot.
When partitioning assets in HubSpot, you do so by asset type. For example, if you want to limit access of your sales documents to only certain salespeople, you would do so in the documents section of your HubSpot account. When hovering over an asset, an Actions menus pops up in the asset row. In the drop-down menu, pick the option for Manage Sharing. You can then partition off your assets by user or team.
Our favorite HubSpot trainer, Kyle Jepson, recently shared a video explanation of partitioning since this tool is harder to explain in written text and is MUCH easier to see in action.
See, makes so much more sense with the video, right? Start by considering what assets it would be helpful for your team or organization to segment by team or user. Remember, you don't need to go organization wild — start with the assets that are obvious and get to partitioning. Your assets will thank you. Well, maybe not. But your team just might!
Check back regularly to find other tips on how to use HubSpot!
Not sure if you're getting all you can out of your HubSpot portal and investment? Our HubSpot Audit will dive into every tool within the platform, evaluate usage, and make recommendations on how HubSpot can work harder for your business. Learn more about our HubSpot Audit below!