As we've shared previously, PR can also be used as an inbound marketing tactic. However, to earn the trust of journalist, you need to create releases that matter and will catch their attention. A key component is making sure your release includes the elements they'll expect while also thinking about inbound aspects that will also pull journalist and prospects to your site.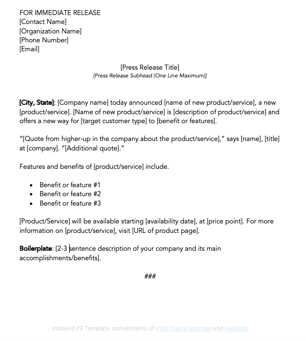 Although it may seem old fashioned, a template is the best way to ensure your inbound PR does double duty. It has to encompass all of the traditional elements of that are appealing to journalists while also satisfying search engines and prospects (maybe that is triple duty then). It is recommended to keep a template on hand that includes your basic elements, or cloning a past release.
Click on the template image to download an Inbound PR template.
According to PRWeb, a press release distribution service, your press release should be 300-800 words total. Their editorial guidelines state, "the length of your release directly affects its distribution, and press releases that are overly short or long may have trouble being indexed in the search engines."
Combining traditional public relations tactics with inbound tactics is what we like to call Inbound PR. The goal of Inbound PR is to take advantage of your traditional public relations tactics by pre-planning those assets with known and successful digital marketing activities that will act as a magnet bring people to your website.
Here are the must have elements of an inbound pr press release.
1. Contact info
Every press release must have contact info. This should be easily found and should always live at the top of the press release. This is how they will get in touch for more information. You see, a press release should be written for direct use by a publication. However, often times it is just the information that peaks interest and a journalist will reach out for additional information or an interview to help complete a custom article for their readers.
2. Headline
Catchy, newsworthy titles is the best way to pull someone in. Shift communications states: Just like any other title, the headline is going to be the reporter's (or prospect's) first impression of the announcement. Keep it short, but make it compelling. This is where the reporter will think, "Does this sound interesting? Should I keep reading?"
We recommend using a news-style tone for headlines and ensure this is a headline that you would click on for more information. A CBS reporter shared several press release rules and #3 is Write it like a reporter would write it. If you aren't sure how to do this, read the publication you are pitching and use their articles as research.
3. City, State formatting
Every release begins with a city, or city, state in ALL CAPS and BOLDED. This could be location of the corporate office or where this newsworthy event took place. Larger, well known cities, like New York, Los Angeles, and Denver, can use a city only.
4. Intro paragraph + release content
The first paragraph of any press release should be a condensed version or snippet of the entire release in a concise 2-4 sentences. Starting a release, article, blog post or web page is commonly known as writing in an inverted pyramid writing style. Not only is it traditionally how news is written, but according to MOZ, this is also a highly beneficial for search. According to this #WhiteboardFriday lesson, the inverted pyramid also helps you rank for answers and snippets.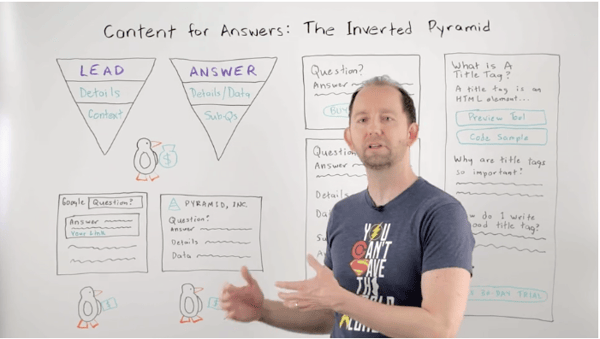 The body copy/text of a press release should provide additional information that supports the intro paragraph with additional and deeper information. Remember to include lists and quotes.
5. Boilerplate
This is the short 'About Us' information that lives at the bottom of every press release. This should be pre-determined before a release is written and should remain constant with every press release. Many of you are asking -- what do I mean by short. 1-2 sentences is best. Ann Wylie quantifies it, "... keep your boilerplate to 100 words or less. Even better: Keep it under 50 words."
6. Closing
Wonder what those three hashtags are? They date back to the civil war when journalists were writing stories and delivering them via telegraph to indicate the end of the transmission. Years later, the modern version of three pound signs, or hashtags, was also used to note the end or a release so that journalists knew no additional information or text would follow.
Using the standard ### indicator is a key factor to gaining trust and looking competent in the industry.
---
As you can see the elements of an inbound press release are similar to that of a traditional press release. However, the addition of search engine optimization is what really kicks up the digital benefits of a press release. You can gain additional insight to your inbound PR readiness with our checklist that walks you through even more inbound factors that need to be incorporated -- like word counts, press release location on your website, and sharing on social.