Podcasting, originally called "audioblogging" began in the 1980s but didn't really hit it's stride until 2005 when Apple added the ability to download podcasts to iTunes. In the early 2010s, it seemed like podcasting might be fizzling out into a thing of the past. A lot of us (myself included) claimed it was dead. But we were wrong. Podcasting is seeing a resurgence in popularity (thanks in large part to the success of Serial) and is bigger than it's ever been. And I, for one, am totally on the podcasting bandwagon.
There are tons of genres of podcasts out there but, being the marketing junkies we are at HIVE, I wanted to introduce you to some of the best marketing podcasts. The list below contains hours of marketing news and insights that can serve to help you become a better marketer. And most of these shows have commute length episodes perfect for filling your morning drive.
---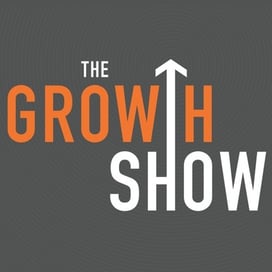 I'm pretty sure we would lose HubSpot partner agency points (if that was a thing) if I didn't mention this show. But I swear I'm not including them just to get kudos from my awesome partners over there. (Hey guys!) This seriously is one of my favorite marketing podcasts out there.
The title The Growth Show is incredibly accurate as the show evaluates growth from tons different angles and in different industries.
One of my personal favorite things about this show is the style. Each episode features a different business and the hosts interview someone in the company (often a founder or owner) to get to the bottom of who the company is and why they are successful. But this isn't a spotlight feature that puts them up on a pedestal or just talks about how great the company or person is doing, instead, the show digs deeper to deal with the how, why and what these companies or people did to be successful and how listeners can implement similar practices in their own businesses.
Here are some of my favorite episodes: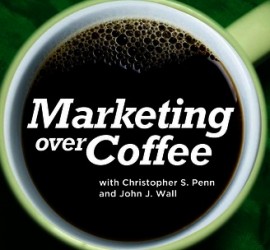 This is one of the most popular marketing podcasts out there right now and once you start listening, it's not surprising.
True to the name of the show, each week's episode is recorded in a local coffee shop and released every Thursday morning. Marketing Over Coffee is one of the few marketing podcasts that is news-based rather than topic-based so instead of picking an overall topic to focus on each week, the hosts look at what's new and interesting in the world of marketing.
Penn and Wall cover both classic and new age marketing and pride themselves on giving listeners "tips and tricks you can only get from casual conversation outside the office." They cover news, conduct interviews and answer listener questions (an interesting addition to more traditional podcasts) all in under 30 minutes.
Here are some of my favorite episodes:
Seth Godin has often been called the "Father of Modern Marketing" and is one of my very favorite marketing speakers and writers of all time. So I feel I would be remiss if I didn't feature his podcast in this list.
This is different from the others in this list because, instead of being interview-style or focusing on a weekly topic, this is actually a mini-series in which Godin guides 30 entrepreneurs through a workshop to turn their startup dreams into successful realities. In addition, it's no longer in production (hence the mini-series aspect). But, it's still relevant and worth a listen, especially if you own or work in a startup.
If you're going to dive into this one, it's definitely worth listening all the way through to get the full spectrum of the workshop (it's only 15 episodes) but, these are some of my favorite individual episodes:
Gary Vee is the definition of hustle. Seriously...look it up in the dictionary...his picture is probably there. If it isn't, it should be. In addition, his ability to foresee trends and keep on top of everything happening is incredible.
I'll admit that part of the reason I originally started listening to this show was because it has a hashtag in the title but Gary Vee does not disappoint.
What's interesting about this podcast is that the #AskGaryVee show actually started as a YouTube series in which he sources questions from his Twitter followers and answers them on camera. Being as trend-oriented as this man is, he recognized that he could take the strategy for his YouTube series and re-purpose it into a podcast so people like me who don't necessarily watch a lot of YouTube but who need something to fill their commute time could listen instead of having to carve out time to check out the videos!
Here are some of my favorite episodes: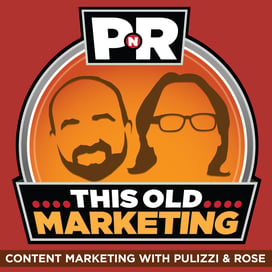 Joe Pulizzi is the founder of Content Marketing Institute (CMI) and a professional in the world of content. Pulizzi has said that "although most people think content marketing is brand new, telling stories to attract and retain customers is, perhaps, the oldest of marketing disciplines." Insightful, right? That pretty much sets the stage for what this podcast is all about: helping content marketers keep up with the rapidly evolving content marketing world.
Each episode is just under 60 minutes (so this one is for the longer commute folks out there) and covers weekly stories and updates in the content marketing field, a quick rant on something "hard to swallow" in the content marketing landscape (my personal favorite segment) and content marketing examples from the past that hold valuable lessons for the future.
Here are some of my favorite episodes:
---

It's no secret that there are hundreds of great marketing podcasts out there. But I think that these 5 are some of the most entertaining, insightful and relevant ones available. The learnings provided in any given episode of the above can help you see your business' marketing through new eyes and hopefully will make you better marketers. Happy listening!

The podcasts featured above are great sources for news and trends in content and inbound marketing. Ready to learn more about what inbound marketing is and how it can help your business? Check out our FREE eBook, Inbound Marketing 101: a Beginner's Guide.
---