Search Engine Optimization (SEO) is a very technical and time-consuming marketing tactic that many of our clients tell us they know they need, but they really don't understand. I used to be one of those clients. As an organization, you hear about Google rankings and algorithms, but all the information about SEO is overwhelming and exhausting. But the fact still remains that your organization needs to do a better job ranking in search engine results pages (SERPs). So...how do you make that happen? Let's dig into a few best practices as well as what to look for when you determine outsourcing SEO is the best option.
There are a few things you can do on your own to increase SEO:
Use your Keywords
Knowing your keywords AND using those keywords is one of the most important aspects of digital marketing. Keywords are how you attract prospects to your site. It is best to use keywords that you strategically identify and to use those keywords in all aspects of your marketing — preferably a set of 10-50 identified keywords that you want to rank for. If you don't have specific keywords for your organization, check out Zach's blog post on How to Do Your Own Keyword Research. But keep in mind not all keywords are created equal.
I hear you thinking right now, "but Yvonne, I thought keywords were out and topic clusters were in?" You are correct; you can not rely on keywords alone and the very outdated tactic of keyword stuffing on your website will actually result in "demerits" so to speak in the algorithms. But even though you should organize content based on topic clusters, keywords still play a crucial role in your SEO.
Your target keyword(s) should be included in:
The url of your page or blog post
The title of your page or blog post
1-3 times throughout the page or blog post
The meta description for your page or blog post
The meta title for your page or blog post
Image alt tags
Blogging
Why does everyone talk about blogging? There are many reasons to blog, but the top two are improved user experience and search engine optimization of your website. As marketing professionals, we've heard for years that we need to blog on our websites. But blogging just to check a to-do box is not enough. Your blog posts need to be:
Keyword optimized
At least 500 words (otherwise they won't even be found and indexed by the search engines)
Including AT LEAST one external link (link to another website) and one internal link (link to another page or blog post on your website)
Providing value to your reader
And keep in mind that readers do not love overuse or spammy use of links either.


Other ways that blogging helps with SEO is that the search engines love fresh content. So consistent blogging/fresh content is noticed and rewarded in search engine results. There are also additional factors within the blog that can help in your SEO endeavors like image alt tags. Make sure you have alt tags AND use your keyword in that tag.
Links
Ok, so I gave you a sneak peak in the above section of one way to use links on your website to help SEO. Within your blog post you need one external link (outside of your website) and one internal link (within your website). But it is usually not enough enough to only be linking to your own website and someone else's — you need other websites to be linking to yours, too.
Back links (links from an external website back to yours) are believed to be the #1 ranking trigger by search engines, especially Google. They are viewed as "votes" for your content. If enough good websites vote for you, you'll start to see your rankings grow. Back linking campaigns are difficult and take a lot of time, but the benefits are huge. You can start off by making sure your business is listed in all possible directories and maps, applying for awards, and even reaching out to other websites and offering to write content for them or providing them valuable content to link back to.
What to Look for in an SEO Agency
Although there are ways non-technical marketers can boost SEO, they are often time-consuming and may not be enough to get your organization where you want it to be in a Google search. This is where a marketing or SEO agency can step in to boost your rankings. Here are four factors we recommend you research before selecting a local or national SEO agency.
SEO Knowledge
Any reputable agency that offers SEO services should also be sharing SEO information. One way to determine a good SEO agency is to search their website and blog to determine the depth and breadth of their SEO knowledge.
Are they practicing what they preach?
Are they sharing that knowledge?
SEO Credibility
There are many ways to determine credibility and your organization may even have a rubric to do so. One way to determine if an agency is credible is by reviewing their industry accolades and certifications.
Do they have any SEO specific certifications?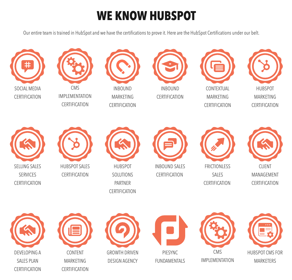 Do they have specific accolades or designations for SEO?
SEO Results
Yes, results are proprietary and depend heavily on where an organization was ranking at the beginning of their SEO process. However, a good agency will provide SEO results in case studies as well as mentions of SEO results in reviews left by clients. Have you asked your connections on LinkedIn if they hire out for SEO and who they use? Getting a recommendation from an industry connection can alleviate concerns about actually seeing results.
One note on results, however, is that if an agency is promising or guaranteeing results, you should probably look for the nearest door. SEO is not controlled by anyone except for the search engines. And no one has the magic formula to automatically rank on the first page. No one can guarantee a top ranking or even first page ranking because there are just too many variables that are out of our hands. The guarantee should be that they will do everything they can to get you there.
Compatibility
It doesn't matter how knowledgable, credible, or how many awesome results an SEO company shares with you if you just don't mesh with them! There are so many Inbound, SEO and Digital Strategy Agencies out there who are doing great work. Don't waste your time working with one that drives you crazy or disappoints you. Figure out ways to determine a good cultural and communication fit. You might have a list of questions to help with this, you might want to meet in person, you may just get a vibe when you talk. Keep all of these factors in mind when choosing a company because you'll need to work with an agency closely and enacting an effective SEO campaign takes time.
Know Your SEO Data
Whether you decide to bolster rankings on your own or you have determined you need a knowledgeable partner, you need to know where you are at now for a couple of reasons:
You can't measure growth without baseline data
Data will show you where and how to concentrate your time
If you've read any of our past blog posts, receive our monthly newsletter or weekly marketing tips, you know how data-driven we are. We also encourage everyone we come in contact with to be data-driven. Which is why we offer a FREE SEO report in 3 simple steps:
Click the image below
Fill in your email address and website URL on the form
Submit the form
And your current SEO data will be on the way. Of course, if you need more help, we're only another click away.