You wouldn't think that too many marketing contacts could be a bad thing. That way of thinking can be expensive. Not managing your HubSpot contact database is one of the quickest ways you can see your HubSpot bill go up. If you exceed the number of marketing contacts included in your tier, you'll be automatically upgraded to the next contact tier during your current billing period. FYI — HubSpot does notify you if you're approaching your marketing contact tier limit. This can lead to many people who are not paying attention racking up large bills. It's crucial that you manage your contact database so that you don't get surprised by an unexpected increase in your subscription price. There is a solution — keep reading if you want to avoid extra billing charges.
What is a Marketing Contact?
HubSpot defines the difference between a marketing contact and non-marketing contact as, "These contacts count toward your paid contact tier and can be targeted with marketing emails and ads. Conversely, you can also set contacts as "non-marketing contacts." You can store up to fifteen million non-marketing contacts in your CRM for free. However, you cannot target non-marketing contacts with marketing emails or ads."
Put more simply, marketing contacts are ones you can use, and non-marketing contacts are ones that you can hoard.
You want to make sure you are paying attention to how many marketing contacts you have and what the next tier is. You should be checking on these regularly, but what regularly means for your business will depend on how active you are with contacts. If you have a constant inflow of new contacts, you are going to want to check much more than you would with a slower influx of contacts.
Don't Become A Marketing Contact Hoarder!
While most of us are not going to end up on a reality show for it, we all have some hoarder tendencies. I have worked with a lot of different HubSpot customers, and a common theme that I see is companies do not like to get rid of contacts, even if they know they will not become customers. I can't blame them because they can easily slip off your radar if you are not paying attention to the number of contacts in your CRM.
Luckily, you can keep your hoarder ways in case you ever want to try and reach those people again.
The Solution =

Non-Marketing Contacts

Non-marketing contacts are there for you to stack up into infinity, and you can have up to 15 million of these contacts in your database at any time. The essentially endless amount of non-marketing contacts can keep building up until the day you can't move around your portal anymore, and A&E shows up to do an episode on you.

The first thing you have to do is argue against the little voice in your head that tells you these contacts are potential customers. An unfortunate fact of the marketing world is that most of the people you grab as contacts will not engage with you over the long term. Once you fully embrace this attitude, you will no longer find yourself afraid of moving your marketing contacts onto the non-marketing contact pile.
Expert Tip: The best practical advice I can give is to make use of HubSpot's unengaged contact list — and use it regularly. HubSpot can create this list by default. This HubSpot article will show you how to create a list of your unengaged contacts that you will be able to mark as non-marketing and get them out of your contact base. You can also create a list for anyone who has had an email bounce which you are going to want to delete since they do not hold any future value for you.
Can We Automate It?
One thing that stands out about the ways of managing these contacts is that it requires a lot of attention that you might not have time for in your day-to-day. If you have been able to separate yourself from the marketing hoarder mindset, I do have a suggestion that you can add to any workflow in order to passively sort out unengaged contacts from your sequence.
Expert Tip: When you are creating a workflow that involves sending multiple emails, you want to make sure that you are taking note of the people who are not opening multiple emails and setting up ways to get them out of your marketing contacts.
Here is a simple example of how you can set it up in your own workflows: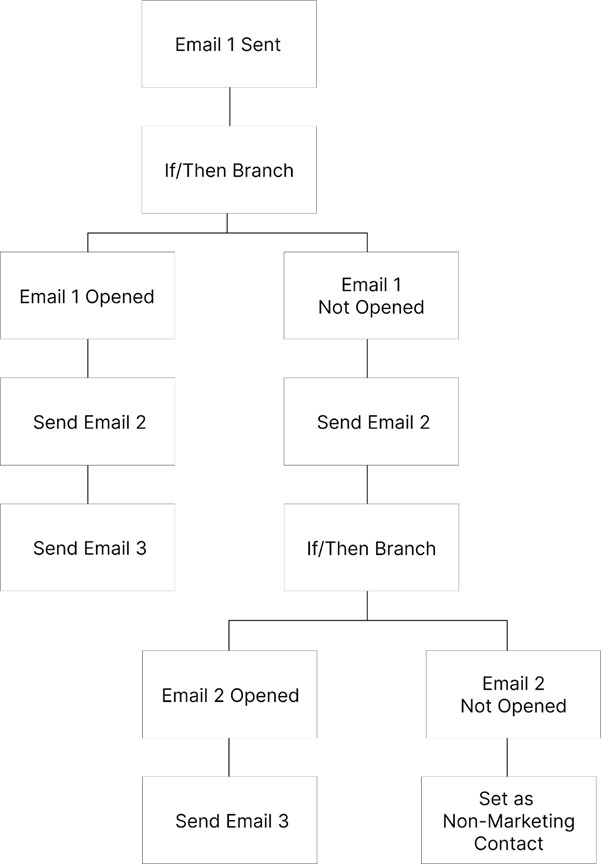 This structure will take your contacts who are not responding to your emails and remove them from the marketing contact pool. This allows you to run multiple campaigns targeting different groups of people without having to go back and create a separate list of unengaged contacts. This will ensure the contacts are passively being removed from the pool of marketing contacts. You could even add them to a list to make them easier to find later if you want to start marketing to them again.
Conclusion
Marketing contacts are an important part of your HubSpot portal and your inbound marketing initiatives. They determine whom you can talk to and what methods you will use to reach them. Keeping this list updated and strong is going to be key to any successful marketing effort you will have in the future. Make sure you are taking time regularly to clean it up and remove contacts that don't want to hear from you. It will get you more deals and allow you to save money on your HubSpot subscription in the future.