---
There are hundreds of different social media marketing services. And for years, the majority of social media marketing has taken place on Twitter and Facebook. But, as the two big networks invest more heavily in paid advertising, businesses are having a more difficult time getting organic exposure on these sites. This is causing businesses to seek other social media networks where they might be able to increase their organic audience reach. And with 400 million monthly active users and more than 75 million daily users, Instagram is quickly joining the ranks of Facebook and Twitter as a preferred social network for brands.
However, despite its increasing popularity, Instagram is not a solve-all for your social media marketing woes. The correct kind of business with the correct audience will thrive on this platform, but it isn't right for all businesses. So before you jump headfirst into the world of Instagram, let's determine whether Instagram is right for your business.
---
To determine whether Instagram is going to perform well for your business, ask yourself these five questions::
1. What are your goals?
Instagram's current platform is arguably the most self-contained social media network. What do I mean by that? I mean that, unlike Facebook, Twitter, Pinterest, LinkedIn, etc., Instagram prefers for its users to stay on the app through their entire browsing experience. While other social networks encourage users to post links to outside resources, Instagram does not want you to do that. In fact, if you post a link in an individual post, Instagram will not allow users to click on that link to be taken to an external source. In order to get there, a user would have to physically type the link into their browser rather than just clicking. And while users will do this for content they view as high value, the user experience isn't stellar, so the chances of them visiting the link are lower than on other networks.
So how does that connect to your goals? Well, if your goal is to increase website visits and you're planning on accomplishing that by using your social media to link to various pages on your site, then Instagram probably isn't your best bet. But if you're looking to increase brand awareness and brand recall, Instagram is a great way to build your following and stay top-of-mind. So, before you jump on the Instagram bandwagon, take a good hard look at your overall goals and determine whether the Instagram platform will be helpful in reaching those goals or not.
EXPERT TIP 1: If you're posting something you want to attribute to a link but that you don't necessarily care if someone clicks on it or not, go for it! Post that link in your post, and forget about it. But make sure that the image you're posting with that link is the real star of the post. Make sure it's something your users will appreciate and interact with without having to click on the corresponding link. Remember, Instagram is a visual network; treat it as such.
EXPERT TIP 2: If you have a link that you absolutely must promote, brands are getting around the inability to include clickable links in posts by including those links in their profile bio instead (where Instagram will allow you to hyperlink). But you don't want to be switching this link out every day or even multiple times a week. Pick one link that is most important, leave it in your bio for a while (at least a month), and promote it in your posts as we did above.
2. Is your target audience there?
Instagram, like many new social networks, began as a social network primarily for the younger demographic. And while it is growing slightly in popularity amongst older audiences, the primary users are still in the generation z and early millennial age ranges.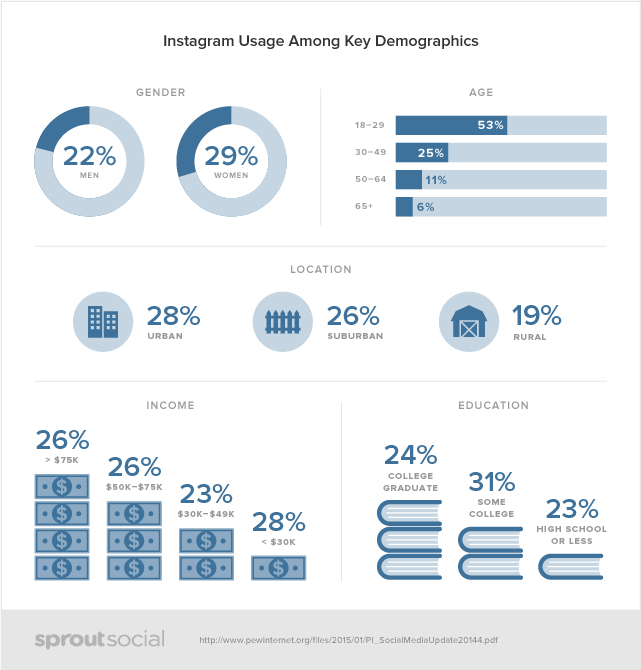 In fact, Instagram is considered the most important social network by more American teens (at 32 percent) than any other network. So, if you're looking to hit a younger audience, this is a great place to do so, but for the over-40 crowd, you might want to look somewhere else for now.
3. Is your brand visual or do you have an idea how to incorporate this visual platform?
Instagram was developed to be a visually-driven platform, and it's done really well in that space. The brands that perform best on the platform therefore are, you guessed it, brands with strong visual associations. If you have a brand that is highly visual, you probably won't have to work very hard to determine what types of content to post. Take the posts below, for example, from some of the strongest brands on Instagram.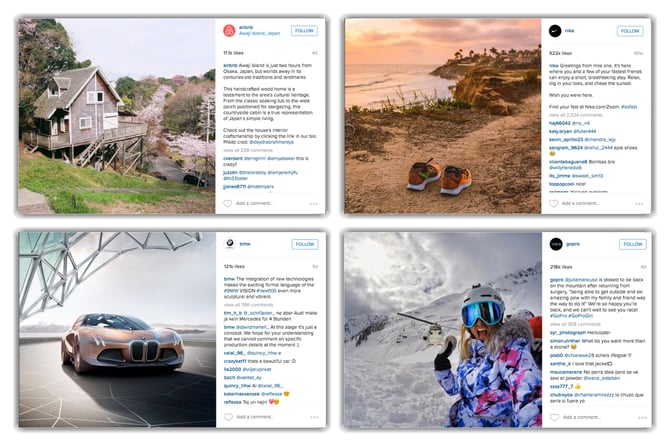 These are all in very different industries, but they have one major thing in common: they are strongly visual brands.
Now, this isn't to say that if you aren't an inherently visual company, such as a clothing brand or a car brand, you can't use Instagram, but it might be more difficult to determine what content to post. In this case (well, in both cases but especially in this one), make sure you develop a robust content plan so you aren't struggling with content last minute.
4. Are your competitors there?
If you haven't yet, check to see if your competitors are on Instagram. Even if you still think at this point that it isn't right for your business, if your competitors are already there and developing a following, chances are that they know something you don't. Evaluate their profiles and try to figure out what it is. If you're able to figure that out, and they seem like they're successful on the platform, take that into consideration when determining whether you should pursue the platform.
5. Will your audience engage?
Instagram is, by nature, an engagement-inducing platform. In fact, Instagram's per-follower engagement rate for top brands is 58 times higher than on Facebook and 120 times higher than on Twitter, and the average engagement per Instagram post has grown by 416 percent over two years. However, just because users on Instagram tend towards engagement naturally, that does not mean that you are guaranteed high engagement levels from your particular audience. You still have a lot of legwork to do in order to develop content that your audience will value enough to engage.
EXPERT TIP: Pay attention to the types of content that users interact with most on your website and other social media platforms. This is a great place to start determining what type of content your user will likely engage with on Instagram.
---

Despite the rapid growth of Instagram and the hype surrounding the platform, the fact of the matter is that it still isn't an all-encompassing platform that will work for every business model. It does have a very specific focus, and you have to be strategic when determining if the focus will help you reach your business and marketing goals.
---