As a sponsor of INBOUND, we embarked on a thrilling journey into the heart of one of the marketing industry's most significant events. INBOUND, renowned for its ability to ignite inspiration, foster innovation, and spark connections, held immense promise for our team. Our participation as sponsors came with high hopes, ambitious goals, and a shared excitement for the opportunities that lay ahead.
INBOUND has long been recognized as a powerhouse in the world of marketing conferences, drawing professionals, thought leaders, and visionaries from around the globe. As sponsors, we were prepared to immerse ourselves in this dynamic landscape, engage with fellow attendees, and showcase our products and services. In this blog post, we offer a glimpse into our journey as INBOUND sponsors, from the preparations leading up to the event to the valuable insights we gained during our time at INBOUND 2023.
Preparing for INBOUND
Once we decided we were in as a sponsor of INBOUND23, there was so much to do, so much to decide. We went from signing our contract to simultaneously planning the look of our booth, brainstorming handouts/giveaways, and taking note of all the key dates and deadlines handed to us by the INBOUND team.
We immediately realized that planning for INBOUND would require a lot of moving pieces, which could leave a significant amount of room for error. The first thing we had to decide was how we planned to keep ourselves organized. We started by adding all the important dates to our internal calendars and then created an internal committee to help with keeping everything on brand and everyone on task.
Every Monday, we started the week by looking at the upcoming deadlines and preparing a list of deliverables that needed to go before the committee by the end of the week. From there, we'd assign and select a timeframe for the project to be completed. We also opted to put the entire INBOUND team through a few training sessions just to ensure that they were prepared to answer any question that could be asked of them at the booth.
The INBOUND Experience
Everyone arrived on Monday to ensure we had enough time to get everything together before the actual INBOUND Conference began. Luckily HubSpot offered an option to ship anything we needed for setup directly to the venue, which enabled us to double and triple-check everything we needed and send it in advance. When we arrived at our booth Tuesday morning, our signage was up, and our boxes were already stacked in our area, waiting for us to unpack them. It took the team about an hour to get everything perfect for Wednesday.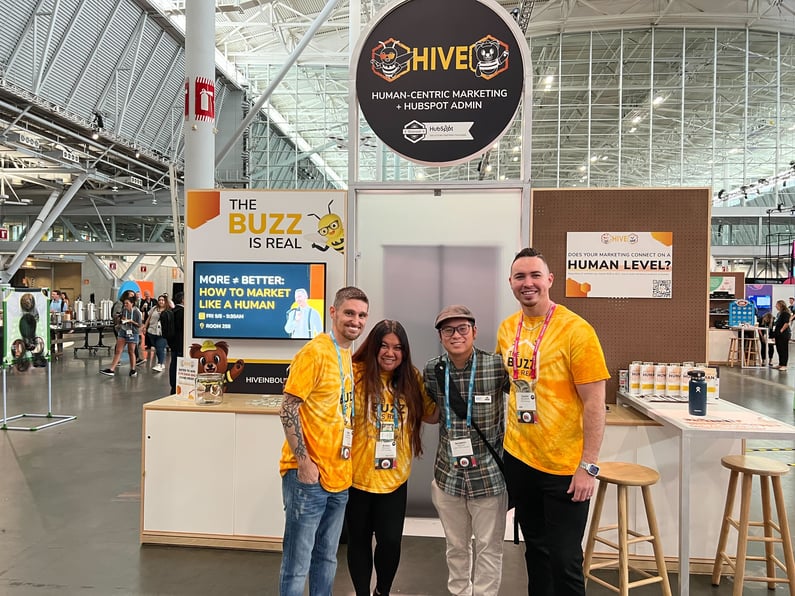 INBOUND Sponsorship Staff were around to help us find our booth location and troubleshoot any initial issues we had on setup day as well as for the remainder of the conference. And even though we were on the move the entire time — any email or text that we sent to the Sponsorship Team was answered in a timely manner. Sponsors were permitted to enter the floor 30 minutes before doors opened to the general public every day, and that was our time to get coffee and breathe before the fun began.
Engaging with Attendees
We were right across from the main stage and learned very quickly that our booth would be flooded with people at the end of every main stage session so we could plan breaks and such accordingly. The giveaways that we decided to bring for our booth were Market Like A Human books and $2 bills — 70% of our interactions with attendees were trying to convince them that the money was indeed real. Other than floor traffic, INBOUND gave us many opportunities to engage with attendees — through the VIP Party, Partner/Sponsor Meetups, and a sponsored session which we chose to take advantage of. We also had the opportunity to engage with attendees through the INBOUND23 App in the form of promotional deals, giveaway signups and a dedicated HIVE inbox throughout the conference.
Post-INBOUND To-Do's
As soon as Reese Witherspoon's session wrapped - half the team headed home and the other half broke down the booth. We shipped back anything we needed to keep at the conveniently located FedEx on site. Before leaving the venue, we were already discussing the different segments that would need follow-up and drafting emails to send while we were top of mind for anyone that stopped by the booth with specific marketing retainer or fractional HubSpot admin needs.
Key Learnings & Future Plans
The most important lesson we learned was to have a backup way to connect with leads!!! The Klik technology was great, when it worked but there were times when we would klik several times and it just would not show up in our apps. Some of the backups we saw other people utilizing were having their LinkedIn QR Code on their phones or collecting information via signup forms on tablets.
We also plan to take advantage of the opportunity to host on-site meetings. There were a ton of seating spaces at INBOUND that worked perfectly for this opportunity. All in all, we definitely plan to have a presence at INBOUND again.
INBOUND is more than just a conference; it's a vibrant community of marketing professionals dedicated to pushing the boundaries of what's possible in our field. We leave this event with a renewed sense of purpose, armed with valuable insights, and inspired to continue innovating and pushing the envelope in our industry.
To those considering sponsorship at INBOUND or attending as participants in the future, we wholeheartedly encourage you to take the plunge. The experiences, learnings, and relationships formed at INBOUND are worth every moment of preparation and investment. As we bid adieu to INBOUND23, we look forward to what the future holds, and we eagerly anticipate our next journey into the heart of this remarkable marketing community.
If you haven't had the chance to check out any of the new HubSpot features released at INBOUND23, we've got you covered! You can also get a complete INBOUND23 recap by clicking the button below.