Picking the right CRM for your company is crucial. There are so many factors to consider. How much will this cost me? What are the contract terms? Can I customize layout and reporting? Will this integrate with other software that I use? What kind of customer support do they offer?
The list goes on and on, but these are some of the most common questions I hear when talking to people about CRM's (yes I actually have conversations about CRM's ... I know, riveting). As someone in business development, I have run the gamut on CRM's both for my own use, and also through conversations where my clients talk to me about their current processes and systems (see those CRM conversations now make a lot more sense).
So let's dive into why HubSpot's CRM may or may not be the right choice for your business.
Cost
Nothing. Zip. Nada. The HubSpot CRM is absolutely free of cost. Now this shouldn't be the only determining factor while searching for a CRM, but it certainly is a HUGE benefit. Setting up integrations, migrating data, learning functionality - these are all time costs that you will face when you adopt a new CRM. Thus you want to make sure you spend all that time working through these time costs with the right CRM. So while the price point is unbeatable, you'll still want to make sure you base your CRM decision on more than price.
Contract Length
This will likely not come as a surprise, but it's extremely hard to lock people into a contract for a product that is free of cost. Shocked? Probably not. However, being locked into a long-term contract with a software that is the wrong fit can really handicap your business. Even more important than the money you can waste on a bad software, if you have a long-term contract with the wrong software partner and it's not providing the functionality and capability to make your team successful, then you fall so far behind. I view the absence of a contract here as a tremendous benefit because should you decide to give HubSpot's CRM a chance, and it isn't the right fit, fortunately you are at freedom to leave at anytime.
Customization
Every single business is operated differently, and thus every single business holds different priorities and values. With the HubSpot CRM you are able to add, remove, and replace any properties that are important to you and your sales cycle. If you need to adjust location of a contact, no problem with just a few drags and drops it is now front and center. If contact creation date is of the utmost importance, boom, it's right there for you. If you need to create custom lead cycles to help you manage your pipeline because your B2B business has a much longer cycle, then perfect, HubSpot can do that. From the customization aspect HubSpot makes total sense to ensure it's working, and more importantly, working efficiently for your company
Integrations
HubSpot does a fantastic job of integrating with almost any of your current softwares. Whether it be your email, Slack, social media, Google Ads, calendars, etc - HubSpot can do it all. Click HERE to see a list of all the integrations HubSpot has to offer. Our favorite part is the ease of adding these integrations and the customer support available if you run into an issue. Oh, did I say Customer Support?
Customer Support
HubSpot is ahead of the curve when it comes to support. They have the normal support that you will receive from any CRM. A quick and easy popup right there on the CRM page that prompts you with a few common questions, or a quick and easy way to contact an actual support representative. Additionally, if you don't just love the HubSpot support staff, they have nearly 4,000 partner agencies worldwide (and a couple dozen in Colorado) who are trained in every facet of HubSpot. Find one who specializes in your industry, or one that's right down the street...I promise there's a good one for you. Finally, where HubSpot really stands out, is their adoption of the HubSpot Academy. Within the Academy you will have the opportunity to get a crash course in the CRM, but beyond that you'll get a variety of courses to help move your business forward through different sales and marketing video courses and certifications.
Plus, you can check out our HubSpot Tips for Beginners to get started!
Growing With You
One other benefit of the HubSpot CRM is that it has so many other tools associated with it that it can really grow with your business. When you're ready to add on more marketing, sales, or service features, you can do that. They have a suite of free products and some insanely powerful paid versions. You're never going to outgrow HubSpot.
Downsides?
While we do feel that the HubSpot CRM fits for almost anyone, there are situations in which maybe HubSpot's CRM isn't right. Maybe you're looking for something specific to your industry, something HIPAA compliant, or even if you have a very tricky or international sales process, HubSpot may not be the right solution for you. While I think there are situations in which those can be created (minus HIPAA), it's worth checking out a few different options and going with the CRM that is going to fit your needs the best.
Overall, the HubSpot CRM can do it all. If you're starting a new company, this CRM will be your best friend. It will easily organize your data and propel your business for less cost than doing it through spreadsheets. If you're an established business, but struggling with your current CRM, call and put their support team to the test to make sure HubSpot is right for you. However, with the customization your team needs, and the ability to integrate with your tech stack there isn't much risk to making a move. Still worried? Don't be. It comes with the HubSpot Guarantee.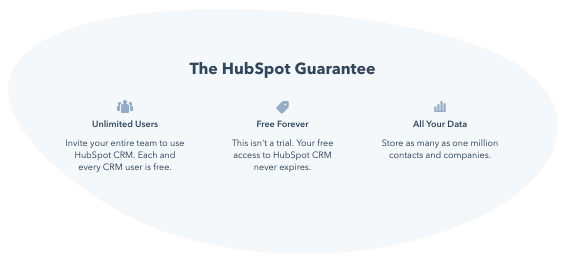 But wait, there's more! HubSpot offers free versions of all their platforms! You can even have Chat capabilities on your website with their three other free tools. Start growing (and growing better) today with HubSpot's free tools and CRM. Get access to all of HubSpot's free marketing, sales, customer service, and contact management tools in HubSpot CRM.