It's no secret that there are a lot of social media marketing services out there. The sheer number of platforms and things you can do with each can be incredibly overwhelming! And you've probably heard of one of the

hottest

apps and social media platforms right now: Snapchat. There's been a lot of argument in the past couple of years about whether Snapchat is a valuable marketing tool for businesses or if brands shouldn't waste their time with it at all. I'm here to tell you that I think Snapchat, when used correctly of course, is a great marketing tool and that, as long as it makes sense for your brand, it can be incredibly valuable to your company. So stop asking "is Snapchat right for my business?" and let me show you why it just might be!
---
Is Snapchat right for you?
Before I outline some of the reasons I think Snapchat is a great platform for marketing, let's talk about how you know whether Snapchat is right for your business.
What are your goals?
Snapchat is arguably the most unique social media platform out there right now. Rather than encouraging you to share content from across the web like Facebook, Twitter, Google+, and, to a certain extent, LinkedIn, Snapchat wants you to actually create content within their app. In turn, they want users to consume content entirely in the app as well. Unlike Instagram, which allows you to post stories (much like Snapchat's stories) and include links to other people's profiles or even links to websites, Snapchat wants it's content to be entirely in Snapchat and will not allow you to link to anything when creating a snap.
This is incredibly important to think about when considering whether to add Snapchat to your social media mix. If your overall marketing goals include things like driving traffic to your website or increasing leads from social media, then Snapchat probably isn't going to help you achieve those goals. However, if your goals include increasing brand recognition or increasing follower engagement, Snapchat is a great platform for your business!
Ultimately, I want to encourage you not to just join the newest or most trendy social media platform because "everyone is doing it." The fact of the matter is that while a lot of brands are using Snapchat, a lot of brands are failing at it in large part because it doesn't align with their goals. And spending your time on something that doesn't align with your goals is ultimately just a waste of your valuable time.
Is your audience there?
Once you've thought about your overall goals and decided that, "yes, Snapchat will help us acheive our overall goals," then you want to figure out if the demographics of those using Snapchat align with the audience you are trying to target. Here is a great infographic that outlines the current usership of the platform: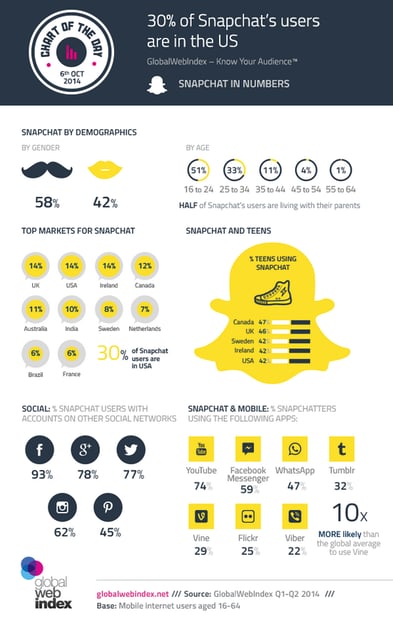 At first glance, you'll notice that the majority of users are men (though not by much) between the ages of 16-24.
Ok...so what if your target market is women from 25-30? Does this chart mean that you should discount Snapchat entirely? NO! While this is a good represenation of the current usership of the platform, we're actually starting to see a lot new users who are above the age of 25. In fact, the number of users aged 25+ is growing 2x faster than users under 25 and 50% of new users are over the age of 25 (MediaKix). So even though the majority of current users are younger and more engaged than older users (users 25 and under visit Snapchat over 20 times per day!), that doesn't necessarily mean that your demographic isn't there or that they aren't starting to join the platform. And, just think, if you're already there when they join, you'll look like the trendsetter!
Is it a good fit for your strategy?
We talk a lot about how important it is to have a succinct strategy for your marketing. Without a strategy, you're really just throwing mud at the wall and seeing what sticks. And that's rarely effective and never an efficient use of your time! Making sure that each and every tactic that you're using fits into your overall strategy will help ensure your marketing is effective and that you're using your time wisely.
Are you willing to invest the time?
This is something that you need to think about with any marketing tactic, social or not, but it's especially important when you're thinking of adding a time-based marketing platform like Snapchat to your overall strategy. The snaps you add to your story are only available to your followers for 24 hours after posting them. What does that mean to you? It means that if you don't have the time to dedicate to creating content specially for Snapchat, then it's probably not worth adding to your overall strategy. Consistency is key with this platform because you have to constantly be adding new content in order to stay in front of your users.
5 reasons your business should be on Snapchat
Ok....if you've made it this far, I'm assuming that you've determined that Snapchat is a good fit for your business. Congrats! But, let's be honest, you might still be skeptical about joining the Snapchat revolution and who can blame you, really? Not only is it an entirely new platform to learn, but I also just got done telling you how time-consuming it can be. Is this really something that's worthwhile to your business? Yes...let me tell you why.
1. Usage continues to increase
Total users is somewhat difficult to determine because Snapchat has stopped tracking the standard Monthly Active Users (MAU) metric that Facebook and Instagram prefer and instead chooses to use Daily Active Users as their preferred metric. While this might seem frustrating (especially if you're trying to compare usage stats apples to apples), I actually like this metric a lot more than Monthly Active Users. This about it this way, if a platform has 600 million MAU but only 100 million of those are active on a daily basis, do you really want to spend your time creating content for that platform? Even if you do ultimately decide to use that platform, I can't imagine knowing that so many fewer users use the platform regularly than those that use it monthly wouldn't give you pause. So by reporting on the number of Daily Active Users, Snapchat is actually telling you how many uses are engaged with the platform rather than how many signed up and check it out now and then. And the users that regularly engage are actually much more valuable to you as a brand than those that check it a couple times a month if that.
But I'm getting a little ahead of myself here. I'll talk about engagment in a minute. First, let's talk about usage growth. Here is a great chart showing the growth progression: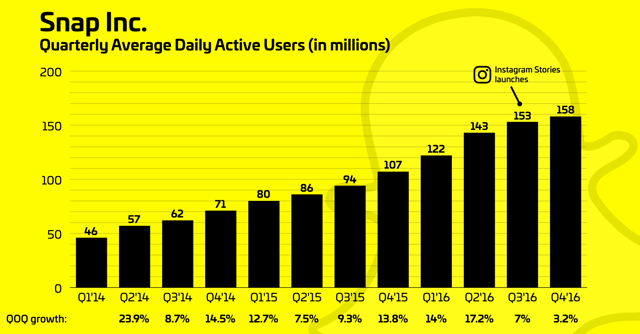 The most important thing to note here is that upward arc of growth. You'll also notice that between 2014 and the end of 2016, Snapchat gained 112 million daily active users. Remember those aren't just people who downloaded the app and never came back to use it. These people are active in the app.
EXPERT TIP: Yes...you probably noticed that the growth slowed slightly after the launch of Instagram Stories. This is something we would expect to see; people like new shiny toys. But growth has not stopped and it has not decreased. Therefore, even though Instagram released a competive product, Snapchat is still growing.
2. Snapchat users are incredibly engaged
Which brings me to my second point (and the point that I elluded to above when talking about daily active users). Snapchat chose to forego the standard metric of MAU for their preferred metric of daily active users. This is likely because they realized that the people using their app are incredibly engaged and they wanted to find a way to show that. Consider the following:
With those stats, it's pretty hard to ignore the fact that not only do users love the app, but they are also regularly using it and continue using it long after initial sign up.
3. It's a great platform for influencer marketing
I've talked a little bit in the past about influencer marketing and how influential (no pun intended) it is going to be this year. In fact, we've already started to see it from a lot of companies! If you're considering leveraging influencer marketing for your company, Snapchat is a great place for you to do that. Influencer marketing isn't about just showing a celebrity or other influencer with your product, instead you want to give the influencer a chance to interact with your followers so that your users really feel like they're getting value
I actually follow a subsrciption box brand called FabFitFun that does a Snapchat takeover by a influencer nearly every other day. Here's an example of a takeover they did for the season finale of The Bachelor:

(My apologies for those of you who aren't Bachelor fans, it's the only one I could find since most brands don't save their stories).
Leveraging influencers not only helps engage your followers more often, it also helps make it easier for you since you don't have to constantly be coming up with content to share!
4.
Be a thought leader
You're probably slightly sick of hearing us constantly talking about being a thought leader but bear with me just a minute. Snapchat is really a great platform for you to use to further show your followers that you are an expert in your industry. Consider taking some time to update users about an important piece of news in your industry or give them a quick DIY tutorial about how to use a product. By giving them this information, you're showing them that you are dedicated to helping them better understand and identifying yourself as a thought leader in your industry. Time for another example, here is a series of snapshots I took from a FabFitFun (yes, I'm obsessed) story teaching how to use an eyeliner palette that came in one of their boxes: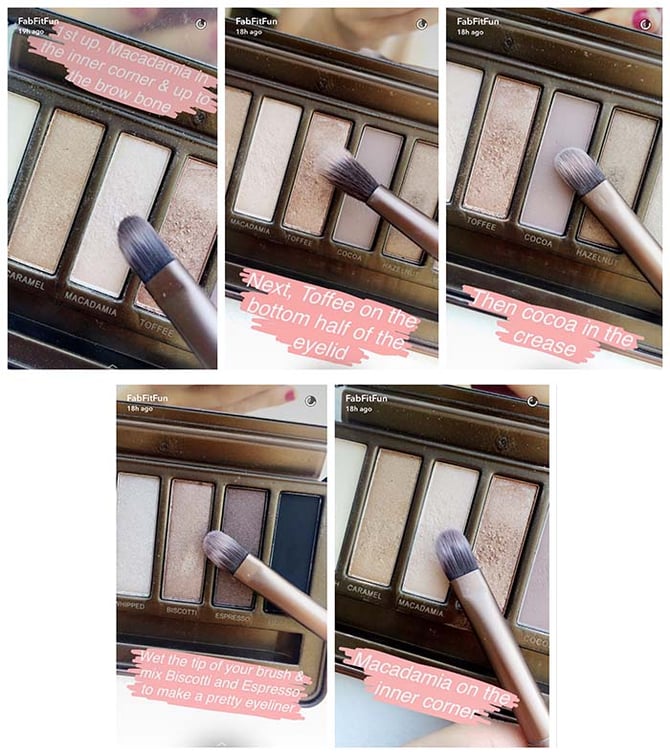 Pretty simple right? And, not only did they give me valuable information (that I'm now sharing with you) but they did so in a way that I could take screenshots of each step and save them for myself to use later!
---

So there you have it, how to know whether Snapchat is right for your business and some of my favorite reasons why I think it's incredibly valuable for businesses. I look forward to seeing your Snaps!